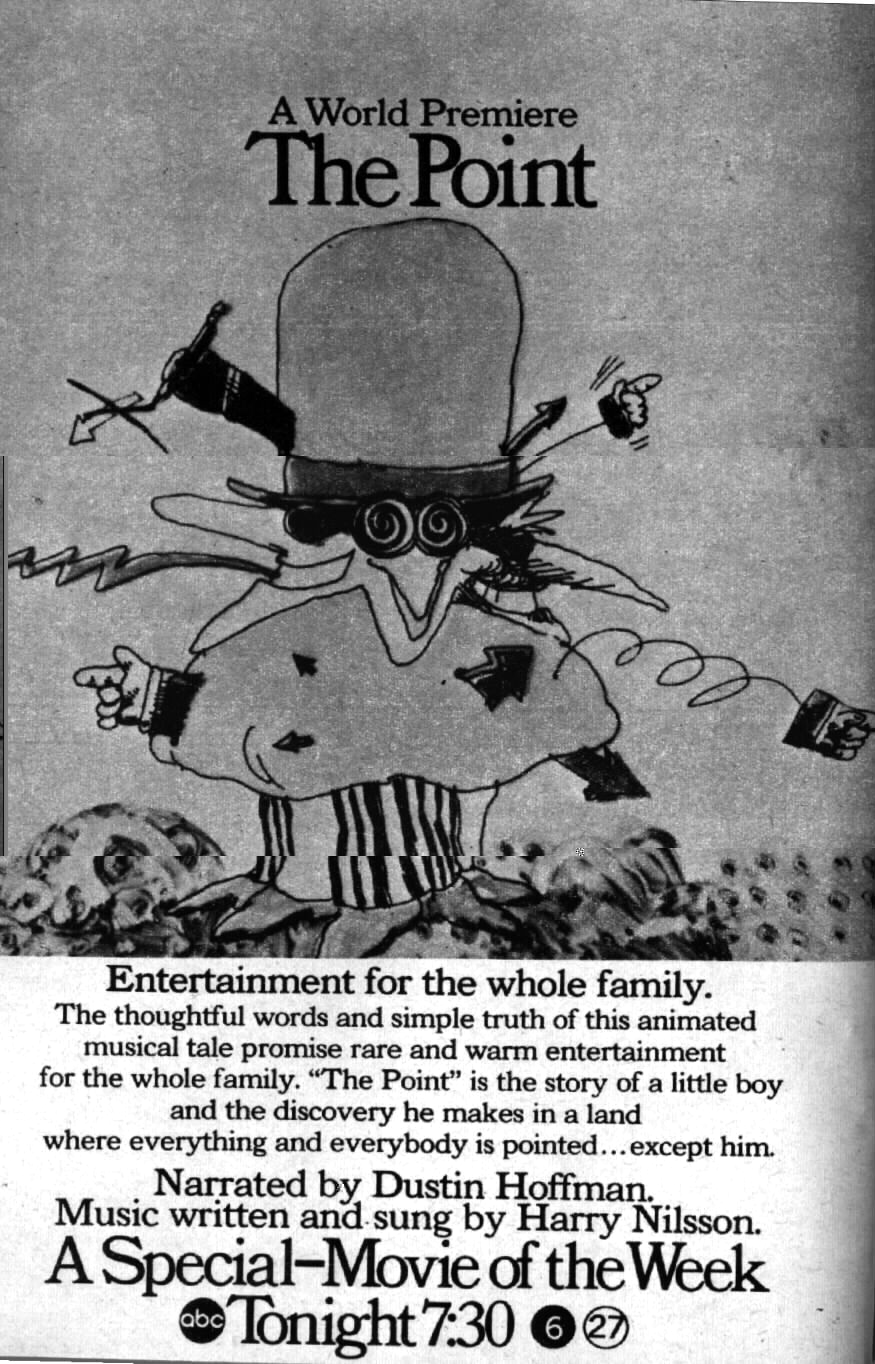 Once upon a time in the town of Point, everything - all the buildings, trees, and even the people were pointed. Except for one little round-headed kid named Oblio.
The Point! is a wonderful adventure, enchanting both children and adults since 1971.
Harry Nilsson's The Point! tells the story of Oblio and his dog Arrow through narration and song. The The Point! album (available on CD) is narrated by singer-songwriter Harry Nilsson. The home video release is narrated by Ringo Starr.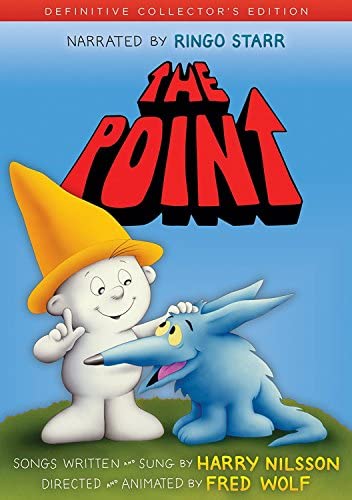 The Point! debuted as a "movie of the week" on the ABC television network on February 2, 1971, at 7:30pm. Dustin Hoffman narrated the animated tale of Oblio and Arrow's adventures in the Pointless Forest.
Alan Barzman recorded narration for the film before Hoffman recorded his version. Barzman's recording provided a reference for the animators and a guide for Hoffman.
Apparently due to a contractual dispute, the version with Alan Barzman narrating aired on ABC in December of 1974.

Alan Thicke narrated a later version when it played on the Disney Channel.
Murakami-Wolf Productions, Fred Wolf Films, and Nilsson House Music produced The Point!. Harry Nilsson wrote the original story as well as the songs. Fred Wolf directed the film.
I was on acid and I looked at the trees and I realized that they all came to points, and the little branches came to points, and the houses came to point. I thought, 'Oh! Everything has a point, and if it doesn't, then there's a point to it.
Nilsson first conceived the idea for The Point! while recording his Nilsson Sings Newman album. At the time Nilsson was working on the song "Think About Your Troubles" and described to Allen Zentz, the recording engineer, how Nilsson often visualized songs as cartoons.
Mike Lookinland (best known as "Bobby Brady" on "The Brady Bunch") provides the voice of "Oblio."
The Point! has also been staged as a play a number of times. The most famous version is the 1977 London version starring Micky Dolenz and Davy Jones.
Fred Wolf Films has proposed an animated TV series, The Never Ending Adventures of Oblio and Arrow, based on The Point!.