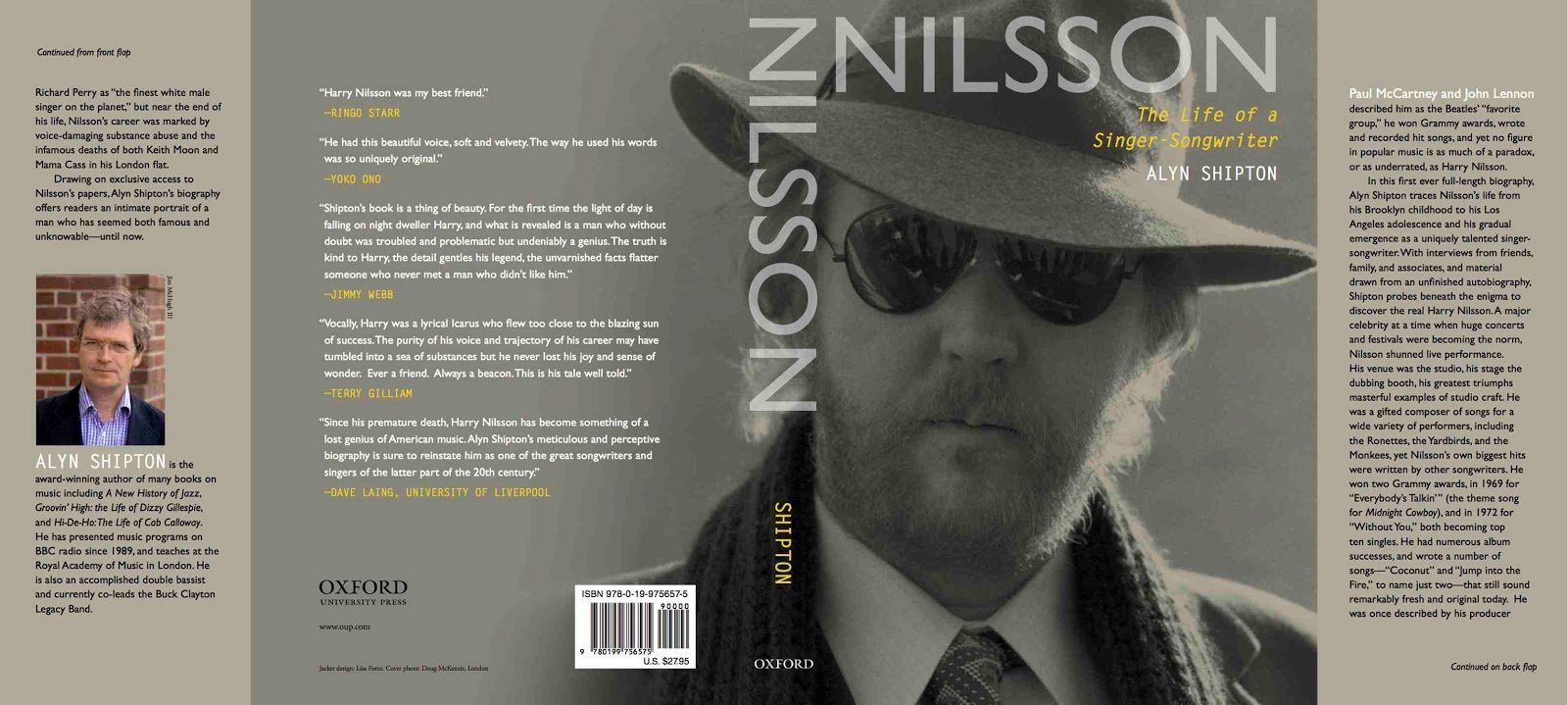 by Roger Smith
Drawing on extensive research and access to Nilsson's personal archives, Alyn Shipton's Nilsson: The Life of a Singer-Songwriter is an exhaustive and award-winning biography of Harry Nilsson. Published in 2013, the biography is available in hardcover from most booksellers and as a Kindle eBook from Amazon.com. It is a "must read" for any fan of Harry Nilsson.
Shipton includes extensive footnotes which provide references and added detail to the text. This article expands on those notes to address some inaccuracies and to provide access more information (often through links to other articles on this web site). This isn't a review of the book and the corrections and comments are not meant to disparage what is an informative and entertaining biography.
Various editions of Nilsson: The Life of a Singer-Songwriter may have different page numbers, so the notes below are listed by chapter. While the quotations from the book provide some context for the added comments, you really need to have a copy of the book on-hand to follow these notes.
Cover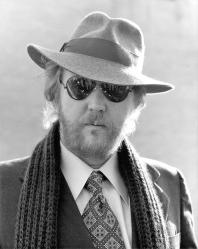 Harry Nilsson by Doug McKenzie
The cover of the book features a photograph of Harry taken by Doug McKenzie who took photos for Variety magazine. The same photograph was later used to create the cover of Nilsson's Losst and Founnd album.
One reviewer of the book at Amazon.com said "The only thing that really puzzles me is the cover picture. I've seen dozens of portraits of Nilsson, some of them funny, others witty, or moving, or all these things combined and then some... but the publishers decided to go with the most dull, insignificant, nondescript picture of Nilsson I've ever seen... Do these people know anything about marketing and advertising?" I found that amusing since I really like the cover photo. If anything, I think the Losst and Founnd album should have used the same image unaltered. To be fair to the reviewer, though, he makes a good point about Shipton not mentioning "Puget Sound" when discussing Duit on Mon Dei.
Dedication
To my friend Lee Newman for introducing me to the world of Harry Nilsson.
The book is dedicated to Lee Newman. Newman appeared as "Oblio" in the 1991 stage version of The Point! .
Preface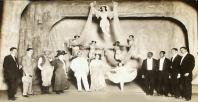 Nilsson's Aerial Ballet
... indeed his grandparents' circus act was commemorated in his album Aerial Ballet.
The most pervasive myth in the Nilsson family history is probably this one - that his grandparents were Swedish circus performers.
Nilsson's Aerial Ballet was not a circus act and it premiered before either of Harry's paternal grandparents was born.
It was Harry's great-grandfather, Carl Emanuel Nilsson, who created Nilsson's Aerial Ballet. Aerial Ballet was a dance performance that incorporated aerial elements, not a circus act.
Stories, especially ones shared orally, are often distorted by the mists of time. Having access to Harry's "oral biography" and "draft autobiography" provided Shipton with insight into what Harry believed about his ancestors, especially his father. It was these beliefs that drove Harry's life choices and his music. So, it is important that Shipton included them in the book. As noted earlier, the corrections noted in this article are not meant to disparage Shipton's work. but to illuminate and expand on it.
He was so entranced by the numerical symmetry of his son Zak's birth on the 17th of January '71 and his weight of seven pounds, seven ounces that he insisted his son's middle name ought to be a number. (Although it remains a mystery why, with quite so many sevens in the equation, Zak's middle name is 9.
Zak's middle name was "Nine" (although one can imagine that Harry wanted it to be "9").
Adding a nine to the digits in Zak's birthday creates symmetry.
If you list the date of Zak's birth with the month first, it is:
1/17/1971
Add a nine after the first one and you get the year repeated:
1 9 7 1 - 1 9 7 1
Even better, if you list the date of Zak's birth with the day first, it is:
17/1/1971
Add a nine after the first seven and you get a palindrome:
1 7 9 1 - 1 9 7 1
So, Zak needed a nine. Ergo, Zak Nine Nilsson.
QED. Ipso facto. Carpe Diem!
(Actually, according to Zak, Harry did want Zak's middle name to be "Seven," but Diane didn't like it. So, Harry chose "Nine" instead.)
Chapter 1 - 1941
... Harry Sr. ...
Harry's father was actually named Harry Jr. It is understandable, however, that Shipton would call him "Harry Sr." to avoid confusion.
So it is not altogether surprising that almost nothing he believed about his father was true. Harry Sr. had indeed gone away to sea, but as an ordinary merchant seaman.
Records show that Harry's father enlisted in the US Navy on July 21, 1942. His service number was 6469103. He was discharged on October 21, 1945.
Merchant Marines, by the way, were essential to the war effort and "suffered the highest rate of casualties of any service in World War II."[1]
... Harry's grandmother, known universally as Nana ...
Harry's grandmother, "Nana," was named Florence Madeline Martin.
In the largest bedroom lived Harry's aunt, Cissy Martin, and her husband, Fred Hoefer, who was the night manager at the Drake Hotel on Park Avenue in Manhattan. In the next room was Harry's uncle, John Martin, a mechanic who worked in a garage in Brooklyn.
"Cissy" Martin's real name was Mary Hoefer.
It was from her that Harry learned the romantic legend of his paternal great-grandparents and their acrobatic troupe, Nilsson's Aerial Ballet.
This is apparently the story as told to Harry by his mother and is closer to the truth than the story of his "grandparents'" and their "circus act." Harry may have morphed it, intentionally or not, into his "grandparents' circus act" when he retold it.
Harry got another double in the game, but despite his own heroics, Bayport lost to Bridgehampton and its most remarkable player, whose name was Carl Yastrzemski. This boy's outstanding playing was no accident. He went on to a professional career in the sport, which took off when "Yaz," as he was known, was signed by the Boston Red Sox in 1958.
Shipton relates Harry's story about playing baseball in high school against a team with Carl Yastrzemski as its star player.
According to the account, based on Harry's unpublished draft biography, Nilsson played for Bayport High and Yastrzemski for Bridgehampton. The game allegedly took place in 1957.
A review of contemporary newspaper reports from the time does not produce any record of Bayport playing Bridgehampton in baseball in 1957. Bridgehampton and Bayport were different leagues, Bridgehampton in B-3 and Bayport in B-1. Bellport, not Bayport won the B-1 championship and played Bridgehampton on June 6, 1957.
Yastrzemski, not surprisingly, receives extensive local press coverage during that period - surprisingly more for his prowess at basketball than baseball. But, Harry Nilsson is not mentioned in any of the articles and is not included in any of the tables of baseball stats.
This, of course, doesn't prove that Harry's story isn't true. But, it casts some doubt on it.
The Security First National Bank would have wanted to hold on to an efficient and numerate manager such as Nilsson, because recruiting a replacement from the small skilled labor market was problematic.
In later interviews, Harry said that he had worked at the "Security Pacific Bank."[2] In 1967, Security First National Bank merged with the Pacific National Bank to form the Security Pacific National Bank.[3] So, the bank that Harry worked at was named Security First National Bank then Security Pacific National Bank. A bank named Security Pacific Bank, started in 2005 and closed in 2008, has no relation to the bank where Harry worked.[4]
Chapter 2 - Good Old Desk
At this time, he was living in the low-key neighborhood of Oakwood at 221 North Serrano Avenue, close to its intersection with Beverly Boulevard.
I'm pretty sure Harry lived in an apartment at 221 South Serrano Avenue.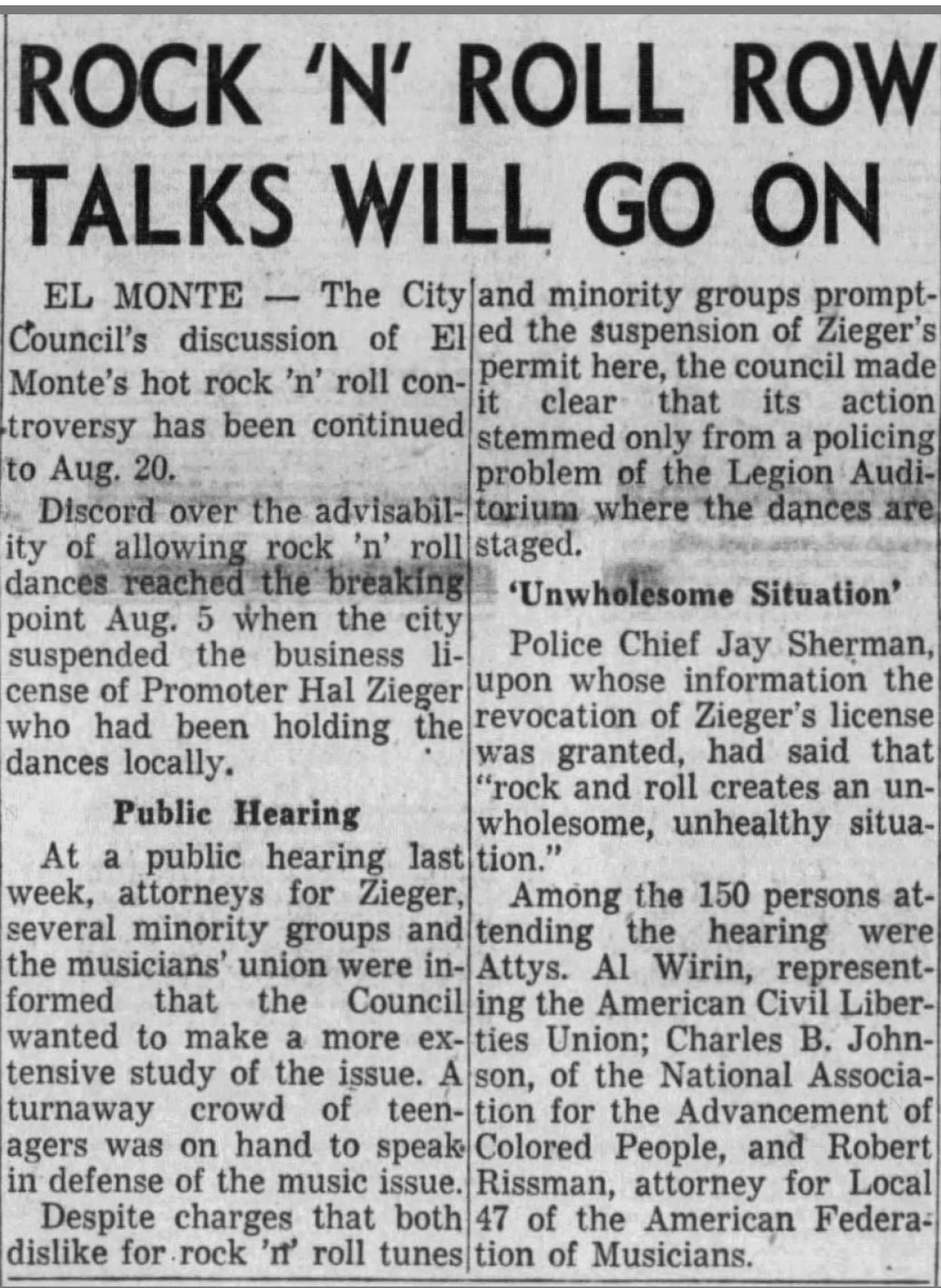 As the two friends [Harry and Jerry Smith] were hawking their wares around the publishers, in one office they ran into a promoter called Hal Ziger.
"Hal Ziger" is "Hal Zieger" - a music promoter in the Southern California area at the time.
With Jerry Smith, [Harry] also took the opportunity that year to telephone their idol Stan Laurel, whom he had discovered, following the death of Oliver Hardy, was living in a hotel in Santa Monica, where he had his number publicly listed.
As an aside ... Actor, writer, and Nilsson expert, Curtis Armstrong appeared in an episode of Diagnosis Murder starring Dick Van Dyke. During a filming break, Armstrong was treated to Van Dyke telling a story similar to Harry's. Van Dyke recounted how he had the discovered and called Stan Laurel's listed phone number. Unlike Harry, though, Van Dyke did get to meet his idol. Van Dyke and Laurel became friends and Van Dyke spoke at Laurel's funeral.
Tipton shared office space with a publishing company called Rock Music, Inc., run by Gil Garfield and Perry Botkin Jr., on Vine Street, close to its junction with Selma Avenue. Garfield was a former member of the pop group The Cheers, who had hit the top twenty in 1954 with "(Bazoom) I Need Your Lovin'." Now he worked as a freelance songwriter and publisher, as did Botkin [....]
The Cheers consisted of Bert Convy, Gil Garfield, and Sally Bremer. Gil Garfield was attending the University of Southern California when the group was formed. Perry Botkin, Jr. arranged the vocals for "(Bazoom) I Need Your Lovin'" which was a top-ten hit in 1954. Botkin replaced Garfield as a vocalist for The Cheers who had a second top-ten hit, "Black Denim Trousers and Motor Cycle Boots," in 1955. Both of the hit songs were written by Jerry Leiber and Mike Stoller.
Working as a "freelance songwriter and publisher" was basically a second career for Garfield who, after graduating from USC, followed his father into the real estate development business where Garfield was quite successful. In 1973, Garfield stated that "I have enough money to last me twenty lifetimes."
Sandi [Harry's first wife] already had a two-year old son who was called Scotty.
Sandi's son, "Scotty," is Scott John Roberts.
Chapter 3 - Mr. Richland's Favorite Song
However, there was a legal wrangle over the use of Bradbury's title, so instead, Nilsson took his album's name from the traveling carnival in the novel, Cooger and Dark's Pandemonium Shadow Show.
In 1998, I wrote a letter to Ray Bradbury asking about the trouble Harry had naming his album after Bradbury's Something Wicked This Way Comes novel. Bradbury sent a nice letter back, talking about meeting Harry and espousing his love of Nilsson's music, but saying nothing about the album title.
George Harrison found the ideal hideaway in the 1400 block of the Blue Jay Way cul-de-sac.
The address of the home Harrison rented is in the 1500 block at 1567 Blue Jay Way.
I was met by a car at Martoni's in Hollywood, transferred, and driven to a point in the Beverly Hills area.
This is the first of several mentions of Martoni's Italian Restaurant in the book. Martoni's was a favorite hangout for Nilsson and many of his music contemporaries. The restaurant and bar opened in 1960 and closed, coincidentally, shortly after Harry passed away, in 1994.
There is plenty of Nilsson's quirky humor on the album, hinted at by a cover photograph that shows the suited singer standing deadpan in a tented set packed with props that allude (often obliquely) to the songs on the album.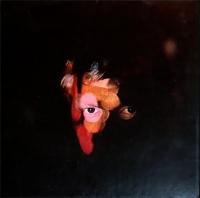 The True One
Nilsson had wanted to use a photo taken by E. J. Gold as the cover for Pandemonium Shadow Show, but RCA quickly put together the photo session for the image that was used.
A more surrealistic (and dark) cover photo like Harry wanted may have appealed more to the younger crowd and increased sales of the album. One of Gold's photos was used for the cover of the "The True One" box set released to promote Pandemonium Shadow Show.
Interestingly, the California courts hold records of a Carl E. Nilsson who patented an "aerial ballet machine" in 1896, designed to be "capable of supporting ballet dancers in mid-air, and may be conveniently and easily manipulated, so as to give the aerial dancers the appearance of floating in the air." The coincidence of name and title is too remarkable to avoid the conclusion that this was Nilsson's grandfather's very circus act after which he named the album.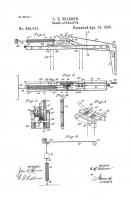 Aerial Ballet Patent
Given that Harry's name is "Harry Nilsson III," one would expect his grandfather to be named "Harry Nilsson," not "Carl E. Nilsson." Carl E. Nilsson was Harry's great-grandfather.
Harry Nilsson's grandfather, Charles Harry Nilsson, was born in 1894. He was just two years old when the patent was filed.
Hard on the heels of the emotional trauma of his separation from Sandi, Nilsson now had to come to terms with the fact that his father had not died in action as he had been led to believe by Bette, but had voluntarily abandoned him and apparently made no effort at contact. He had also not been a Seabee, but merely a merchant mariner, "like Ringo," as Nilsson was to point out in later life.
Harry's notes for his autobiography make it clear that his father was not welcomed back by Bette when he returned home after being discharged from the Navy in 1945. Nevertheless, Harry's father must have remained in contact with Bette - the two had a second son four years later and Bette knew how to contact her former husband when she decided to tell Harry about him in 1967.
That evening, at 7:30 sharp, McCartney and his wife-to-be Linda, showed up at Nilsson's room. Either playing his left-handed guitar or sitting at the piano on which Nilsson had worked out "The Puppy Song," McCartney ran through rough versions of several of his newly written songs, including "Blackbird" with its tricky guitar accompaniment, which was to be featured on the White Album. Nilsson sent down for a bottle or two of the best wine on the hotel's room service list, and they carried on singing songs for one another into the small hours.
According to Zak Nilsson, a recording exists from that evening.
Chapter 4 - Open Your Window

7708 Woodrow Wilson Dr.
Back in Los Angeles, Nilsson and Diane set up home together in the Hollywood Hills on Woodrow Wilson Drive, not far from its intersection with Mulholland Drive.
The home, located at 7708 Woodrow Wilson Drive, was originally built for Natalie Wood by her parents in the 1950s. In 1979, Harry leased the home to his friend, Ringo Starr. On November 28, 1979, sparks from a fireplace set the second floor on fire.
News Report of the Fire at the Home Ringo Leased from Harry

Wright Brothers
References to the wisecracking box were to turn up in several press releases and interviews over the next few months. So too would mentions of the Wright Brothers musical.
In a "Pop Scene Service" article distributed to newspapers by the Bell Syndicate in late 1968 or early 1969, Nilsson is said to have developed a "self-identity box":
It also explains why he is in a totally unrelated venture, manufacturing a self-identity box which says *'hello . . . I'm . . . (person's name), a gimmick item with special appeal for conventions[5]
One has to wonder if Harry invented weird stuff to say during interviews as a joke - things like the wisecracking box and the story that his name is "Harry Edward Christopher Nilsson" but he prefers "Harry Edward Nilsson" because the initials spell "HEN.")
You can read a more about the Wright Brothers musical here.
Not to be confused with his contemporary and namesake, the Scottish songwriter Bill Martin, who wrote "Puppet on a String" for Sandie Shaw and "Congratulations" for Cliff Richard ...
.. Or with Billy Joel (born "William Martin Joel").[6] :-)
There is an in-joke too about the prospective son-in-law who "looks just like my gal Sal." This points to Nilsson's encyclopedic knowledge of early film and most likely refers to the 1929 movie short My Gal Sal by Red McKenzie and the Mound City Blue Blowers.
The phrase "my gal Sal" in "Nobody Cares About The Railroads Anymore" is much more likely a reference to the 1942 Fox musical My Gal Sal starring Rita Hayworth and Victor Mature.
They had asked actor Alan Barzman (who sounded rather like the comedian Jack Benny) to read through a temporary track [narrating The Point!] to help with timing, and when Hoffman heard it, he liked the sound so much that he asked, "What's wrong with that voice?"
[...]
There would be further television broadcasts, including one narrated by Alan Thicke and later a video release voiced by Ringo Starr. The show would also, in years to come, make a successful transition to the musical stage.
Barzman's version of The Point! was shown on ABC in December of 1974 and a few more times later. Alan Thicke's version only appeared on the Disney cable channel and was never broadcast over the air.

Chapter 5 - Gotta Get Up
Perry recalled that Nilsson introduced himself during the evening, expressing enthusiasm for the Tiny Tim album. In return, Perry told Nilsson that he had liked Pandemonium Shadow Show, and on the back of this discussion, a friendship began.
In his memoir, Cloud Nine: Memoirs of a Record Producer, Perry adds a little more detail about meeting Harry at the party Phil Spector held for Tiny Tim:
We discovered that we were both from Brooklyn and were both Geminis - and felt an instant camaraderie. Harry typically looked like he had just woken up. His standard outfit was faded jeans, tennis sneakers, a rumpled white shirt in need of ironing, and his hair was generally unkempt.
Describing "Jump Into the Fire," Shipton writes:
Flowers' pulsating bass line sets the pace, and late in the number he slackens off the strings, creating a remarkable effect by detuning the instrument after a thudding drum solo from Jim Gordon.
The "drum solo" is actually a drum duet played by Roger Pope and Jim Gordon.[7]
Just as Nilsson admired Laurel and Hardy [...], he was a great Kovacs fan, especially his all-gorilla version of Swan Lake. So, in a further tribute, Nilsson donned a gorilla suit and was again shot as three separate characters, one playing piano, one guitar, and one percussion for "Coconut."
Harry's "In Concert" performance of "Coconut" is based on Ernie Kovacs' "Nairobi Trio" playing the song "Solfeggio (The Do-Re-Mi Song)," not his all-gorilla "Swan Lake" skit.
Ernie Kovacs' "Nairobi Trio"
[...] immediately after the recordings were done, Diane packed her bags and took Zak back to Los Angeles, leaving Nilsson for good.
"And to be fair, Harry didn't just 'walk out' on us, he tried very hard to make it work, and couldn't. And I don't blame him for that either, my mother was a difficult person to get along with. And Harry felt guilty about it for his whole life and tried to make it up to me in any way he could." -- Zak Nilsson[8]
Chapter 6 - It Had to Be You
The concert and London location scenes apart, Son of Dracula was burdened from the outset by a poor script by Jay Fairbank and wooden direction by Freddie Francis, a seasoned director of low-budget horror movies for Hammer Films.
"Jay Fairbank" was the pseudonym for actress Jennifer Jayne. She had roles in several films including Dr. Terror's House of Horrors (directed by Freddie Francis ) and The Trollenberg Terror. .
In October, Ringo began work as an actor on another movie, playing the part of "Mike Menarry" in Claude Whatham's film That'll Be the Day.
The film, with a screenplay by Ray Connolly, is loosely based on Harry Nilsson's song "1941."
The original twelve tracks of the album were artfully linked together by Jenkins' witty scoring, with the closing track "As Time Goes By" prefigured at the very start of the record as its opening verse gradually transforms into the relatively obscure song "Lazy Moon."
"Lazy Moon" was performed by Oliver Hardy in the 1931 Laurel and Hardy film Pardon Us.
From there they headed east, and somewhere near Chicago, Nilsson took Dorfman to his first American football game. Gradually they made their way toward New York State. By this time, the car looked as if it had been driven across some of the roughest territory in the world. The hood latch had broken, and lacking any kind of normal garage on the road, a local blacksmith had forged a makeshift lock, welded in ungainly fashion to the nose of the car.
"Blacksmith?" Did Nilsson and Dorfman make a detour through 1890 during their cross-country trip? :-)
[...] where there was an ice cream parlor called Rumpelmeyer's on the ground floor.
The name of the New York restaurant where Harry met Una was "Rumpelmayer's." Located in the St. Moritz Hotel, it closed in 1998.
Chapter 7 - Don't Forget Me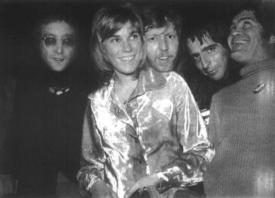 John Lennon, Anne Murray, Harry Nilsson, Alice Cooper, and Mickey Dolenz
The next day, she and Nilsson drove to Los Angeles and settled in at his penthouse apartment at the Fountain Building, close to the intersection of La Cienega Boulevard and Fountain Avenue, where he had moved after separating from Diane.
Harry's penthouse apartment was atop the Fountainview West Apartments complex at 1155 N La Cienega Blvd.
They were photographed there at Thanksgiving and again a few days later for the opening of the early December season by "Capitol's Canadian songbird" Anne Murray.
You can read the story behind the famous photograph here - "The Story Behind the Photo of Anne Murray and the Hollywood Vampires."
On "Only You," Ringo having based his slightly tentative lead vocal on the demo recorded by Lennon in New York, Nilsson again added a quantity of backing vocals as he had done the previous year on "You're Sixteen."
Years later, Harry's backing vocals were added to Lennon's "Only You" demo track which was released on Lennon's 1998 Anthology and Wonsaponatime albums.
Chapter 8 - Turn Out the Light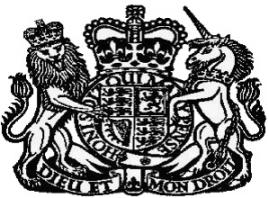 Dieu Et Mon Droit
The logo Nilsson mentioned is to be found on the front cover art for the solo album Ringo, where, above Tom Bruckner's painting of the crowd of participating musicians, there hovers a board surrounded by the theatrical masks of tragedy and comedy. Lettering on it reads "Duit On Mon Dei." The words are ranged below a giant apple in the form of the motto of a coat of arms. And indeed, they are a pun on the arms of the British royal family, "Dieu et mon Droit" or "God and my right (shall me defend)."
The "Duit on Mon Dei" logo was used earlier by Derek Taylor on the internal newsletters he published when working at Apple. See: Duit on Mon Dei
With the making of this video, Duit On Mon Dei was officially completed, and so Nilsson threw a party for "intimate friends and band members." They were collected by a chartered bus and taken to a restaurant with a World War I theme to celebrate finishing the album and the month-long party at the RCA studios that had accompanied its creation.
The restaurant was probably the 94th Aero Squadron near the airport in Van Nuys.
Within a day or two of their return, Nilsson and Ringo went together to see David Essex in concert and were astonished that his live show lasted for only about fifteen minutes after a huge buildup with fireworks and smoke.
The event Harry and Ringo attended was a live performance for an episode of "Midnight Special" which aired on November 21, 1975.
Neither Duit On Mon Dei nor Sandman was selling well, and the management at RCA was not happy. Sandman had struggled to 111 on the Billboard album charts, and Duit On Mon Dei had not made it into the top 100 either. Nevertheless, Nilsson had a contract to go on making albums, and - judging by the most recent examples - at a cost that was now causing his record company real concern.
It should be noted that the expenses for recording the albums were deducted from the amount RCA was under contract to pay Nilsson. So, essentially, he was paying for the extravagances out of his own pocket. But, yeah, RCA had expenses too and had a right to expect better sales from the artist that had recorded Nilsson Schmilsson.
Originally, the vocal track was cut by Nilsson alone, but after that early December session, the soul singer Tony Le Peau was drafted in to add additional vocals, thereby effectively removing much of Nilsson's characteristic stamp of personality from the track.
The guest vocalist on "A Thousand Miles Away" is credited as "Tony La Peau" (not "Le Peau"). There is no soul singer named "Tony La Peau." It's an obvious nom de plume, but it isn't obvious who the singer really is.
Chapter 9 - Perfect Day
Finally, "Perfect Day" with the return of the boys' choir and some discreet backing vocals by Mara Gibb, is the song of a recently married man who exudes happiness and contentment.
"Mara Gibb" was actually Klaus Voormann.
On April 14, Monty Python Live! opened at the City Center Theater in Manhattan. Nilsson already knew Graham Chapman from his drinking bouts with Ringo, Keith Moon, and Marc Bolan, but now he was to meet the rest of the Flying Circus team, whose work he already knew well from watching British television in Curzon Place and from the repeats of their programs on ABC television in the United States from 1975. These, although clumsily re-edited, had built up a huge cult following, members of which could recite most of the better-known sketches verbatim.
While ABC did air two 90-minute specials cobbled together from the last season of Monty Python's Flying Circus, it was the airing of complete episodes of the show on local PBS stations that created the huge cult following in the US.
Not long afterward, Nilsson and Una returned to Los Angeles, as Nilsson waited for his wrist to heal. One diversion that he enjoyed shortly after they came back to the West Coast was to hang out on a coastal cruise organized by the owners of the Record Plant. Gary Kellgren, one of the partners in the business, had fitted out a 110-foot yacht as a floating studio and was offering musicians the chance to record at sea.
A little over a year later, Kellgren drowned in the pool of his LA home. He was just 38 years old.
Much of the time from early 1978 onward, Nilsson regularly installed himself in the bar at the Bel Air Hotel, to the extent that he came to refer to it as his "office."
Harry would eventually be banned from the bar after openly indulging in his fondness for a particular white substance.
So, feeling that part of his soul had been extinguished along with Lennon's life, Nilsson put his own musical career on hold and called the headquarters of the National Coalition to Ban Handguns in Washington, DC to ask what he could do to help. This organization was the larger of two national groups, the other being HCI (Handgun Control Inc.), that were campaigning for greater control of weapons and licensing schemes.
Handgun Control, Inc. (now known as the Brady Campaign to Prevent Gun Violence) was the larger[9], and better known[10], of the two organizations at the time. Harry was turned away by Handgun Control, Inc. before being welcomed by Michael Beard of the National Coalition to Ban Handguns (now known as the "Coalition to Stop Gun Violence").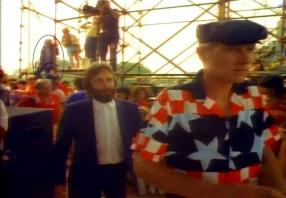 Harry Nilsson at the Beach Boys July 4, 1982 Concert
There is a film of this event, the The Beach Boys July 4, 1984, concert in The National Mall in Washington, DC, released as the closing climax to the documentary The Beach Boys: An American Band, which came out in January, 1985. On both sides of the stage, there is a crowd of onlookers, and Nilsson can clearly be seen among them in three scenes, wearing his shades and a black leather jacket, with his hair dark with sweat.
So far, I've only been able to spot Nilsson in one scene, at the very end, where he can be seen sitting on scaffolding.
We thought, well, maybe we should buy a house. So we ended up buying 409 North Broadway, Nyack in Rockland County, on the other side of the Hudson River. It was also a lovely location, right on the Hudson River. Lovely views. Victorian.
Years ago, I attended one of Ringo's All-Starr Band concerts at the Hard Rock in Orlando, Florida. Before the show started, I began talking with a woman sitting near me. Harry Nilsson was mentioned and she asked if I had seen the "The British Invasion," a Beatles cover band that played at Epcot. Of course, I had. She said that the guy who plays "Paul" in the band was friends with Harry Nilsson. His name is John Babcock.I've never had the chance to meet him, but I've read and viewed interviews with John Babcock where he talks about being Harry's neighbor in Nyack.
Nilsson's family was now the bedrock of his existence. Indeed, as he said in a live National Public Radio interview on the Flo & Eddie show in 1990, he got rid of his piano and guitar in the early 1980s to focus on raising his family.
Flo and Eddie's 1990 radio show aired on WXRK (now WNYL). WXRK ("K-Rock") was an independent radio station, not affiliated with National Public Radio.
He had invested some of his money from the severance of his RCA contract in film and television companies, and indeed in July 1983, well before the move east, he had been named as a possible chairman of Cinnamon Broadcasting in Utah when that group of businesses was reorganized.
The company was called Cimarron Broadcasting Corp. It was apparently named after the novel Cimarron which was set in Oklahoma (the state where Cimarron Broadcasting Corp was founded). Following a similar pattern, Hawkeye Entertainment is named for the character from the novel Last of the Mohicans which takes place in update New York where Nilsson lived when Hawkeye was founded.
In late August 1990, he had to enter the St. Luke's rehabilitation clinic near Pasadena as a result of a drunk-driving conviction. He had been stopped by officers on July 9 with 0.23 percent alcohol in his blood, three times the legal limit, and he agreed to get treatment, as was reported to the court when the case was finally heard some months later.
Harry was arrested by the California Highway Patrol early on the morning July 6, 1990, while driving his Mercedes-Benz with two passengers on Palm Drive north of Santa Monica Boulevard in Beverly Hills. He was formally charged with misdemeanor drunken driving and driving without proper insurance. On August 30, 1990, Nilsson entered a plea of "Not Guilty." On April 8, 1991, Nilsson changed his plea to "No Contest" and agreed to get treatment.[11] [12]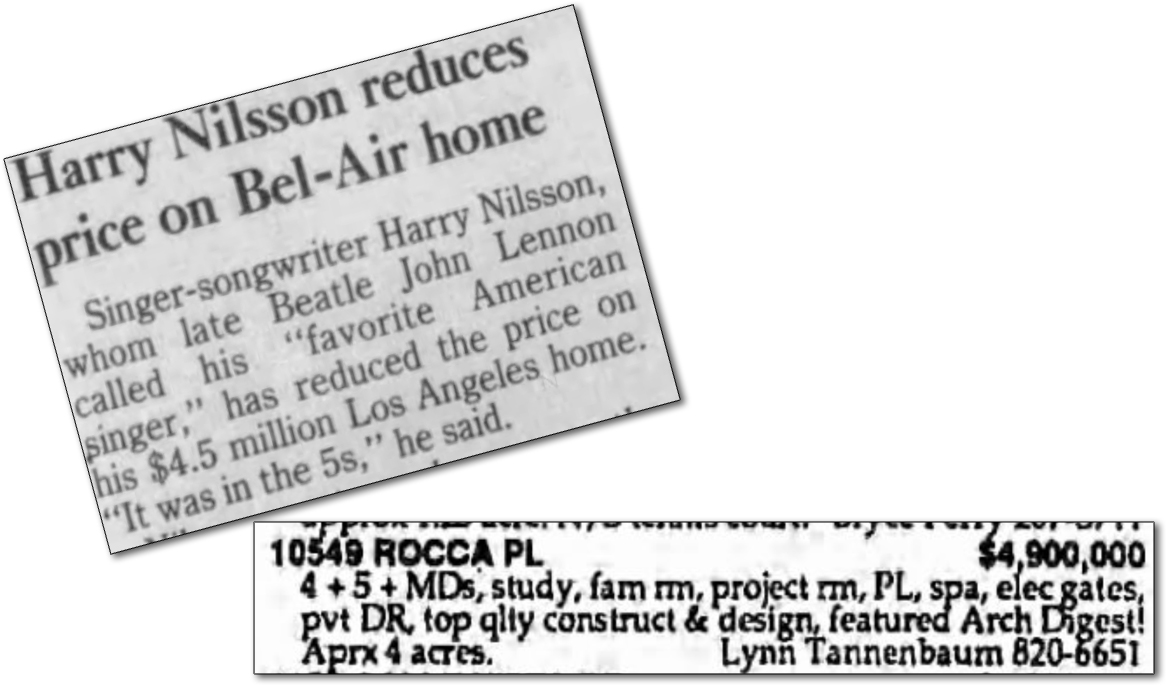 The house in Bel Air (which Nilsson had not sold when the family moved) was put on the market at $3,995,000, advertised by the Fred Sands Estates agency as an "Architectural Showplace." Nilsson later observed ruefully that "we finally sold the house at half price thanks to bad timing in the market. It was on for a long time and went through four brokers."
Although Harry said that "it was in the 5s," newspaper ads show the original asking price for the home at 10549 Rocca Place in 1990 to have been $4,900,000. Public records show that it sold for $2,525,000 on May 29, 1992.
The house was actually put up for sale earlier. For a brief time in 1986, after the Nilssons moved to Nyack, New York, it was listed for $3,250,000. But, Harry apparently decided to keep it - probably with the intention of moving back into it once the children were grown.
The Hidden Hills home at 23960 Long Valley Rd, which the Nilssons purchased for $1,200,000 in 1987 sold in 1993 for $1,150,000.
At Christmas in 1993, Nilsson and his family were invited to spend the holidays with the artist E. J. Gold, who had photographed Nilsson in the 1960s and later produced a series of paintings inspired by "The Moonbeam Song."
E. J. Gold's "Moonbeam Show" is a collection of ceramics, jewelry, and other artwork inspired by Nilsson's songs.
A few days after his return to Los Angeles at the very start of 1994, Nilsson was interviewed by the writer Dawn Eden. She had been commissioned to write the liner notes to his RCA retrospective collection. In the tapes of her conversations with him, Nilsson began by reading some of the finished segments of his autobiography to her and then answered her questions, in effect authoring a short version of his life story that would become the extensive booklet for his Personal Best album. Eden went on to transcribe more of the interview for a long article in Goldmine magazine.
You can read the Goldmine article here ("One Last Touch of Nilsson").
Chapter 10 - It's So Easy
In time, Popeye was to gross in excess of $60 million, but its initial critical reception was so damning that Altman ended up selling his Lion's Gate production company and starting his career again from scratch.
Altman's Lion's Gate Films was not involved in the production of Popeye which was produced by Disney, Paramount, and Robert Evans. Altman did get tangled up in legal issues with Paramount over the budget for Popeye, but that was just one of the lesser reasons Altman chose to sell Lion's Gate.[13]
Also, Popeye actually received generally favorable reviews upon release (though there were a few rather vitriolic ones) and made $60 million on a budget of $20 million.
The months after his return from Malta were devoted to completing and presenting Zapata, the stage musical he had been contemplating for some years. The idea had come from the actor and game-show host Bert Convy, who had recently won an Emmy for his nationally broadcast program Tattletales. Convy first approached Perry Botkin Jr., whom he had known since the days of The Cheers.
Bert Convy first met Perry Botkin when Convy, just out of college, was a singer in The Cheers and Botkin was the vocal arranger for the group's first hit recording in 1954.
Nilsson and Starr attended the premiere of Zapata together on September 18, 1980.
Zapata premiered on Wednesday, September 17, 1980.
Chapter 12 - Epilogue
Writing this article has given me the opportunity to read Nilsson: The Life of a Singer-Songwriter for the third time. Alyn Shipton provides insight into Harry Nilsson and his music that you just can't get from a Wikipedia article or a fan web site. I've nitpicked a few things, but my only real issue with the book is that I feel that Harry's father wasn't treated fairly. But, Harry obviously felt abandoned by his father even if the story is different when looked at from his father's perspective. And it is that belief that had such an overarching effect on Nilsson's life and music.
Shipton's epilogue ends with an upbeat appraisal of Harry's legacy. This has proven to be true. Since the publication of Nilsson: The Life of a Singer-Songwriter Sony has released The RCA Albums Collection, a seventeen CD set of fourteen of Nilsson's RCA albums with dozens of bonus tracks; Harry's final recordings have been released as an album called Losst and Founnd; Nilsson's music continues to be ubiquitous on TV and in films; The Point! and Who is Harry Nilsson (And Why Is Everybody Talkin' About Him?) are available on DVD and Blu-ray; another book, Harry & Me has been written about Nilsson; and a new generation of musicians are injecting fresh life into his songs.
---