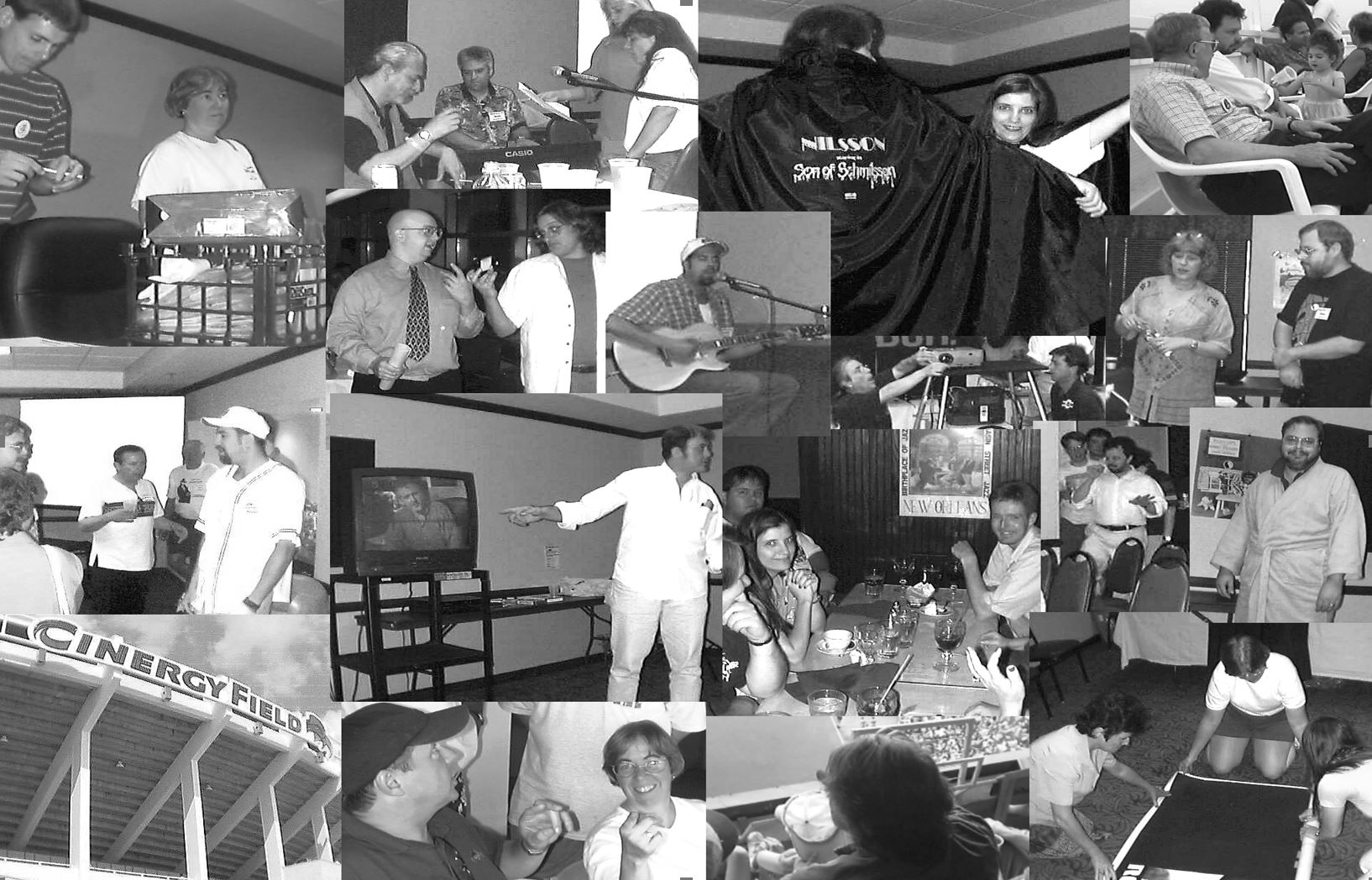 Sue Schnelzer hosted Harryfest 1999 in Covington, Kentucky, just across the river from Cincinnati. The 'fest was held July 16 through 18, 1999.
Memories of Harryfest 1999
When I first decided to look up my favorite artist on the www I got no matches. I went upstairs got an album; went back downstairs. Typed in "Nilsson." I found jadebox!
The biggest deal was finding people that understood my feelings about Harry's music. I was intrigued about 'fest 1998 and saw all the links on Roger's pages. It floored me when I heard it was 40 people! WHAT?
I couldn't believe it. I had decided to go to 'fest 1999, but 40 people? I figured thousands. I decided not to go. Everybody there would know each other, I would stick out with so few of us there.
The more I thought about it the more I warmed up to the idea of a summer road trip to meet my brethren.
I was going. Who wants to go with me? At the end my 14-year-old son agreed to go. I drove and he navigated, although I made him get a learner's permit before we left.
It was awesome meeting and hanging out with Nilsson fans. The recordings we heard and the pics, presentations, etc. were once in a lifetime.
At the auction I got almost all the albums I didn't have! I was in heaven. Still am. Expect me at Harryfest 2000.
As my wife, Bracha, and I boarded the airplane for our trip to Harryfest 1999, I wondered if it would live up to our expectations after the first Harryfest in Los Angeles. I knew that Sue and the other Ohio Harryheads had put a lot of work into it and I was expecting to enjoy the weekend. But, would the "magic" of the first Harryfest be matched by the second one?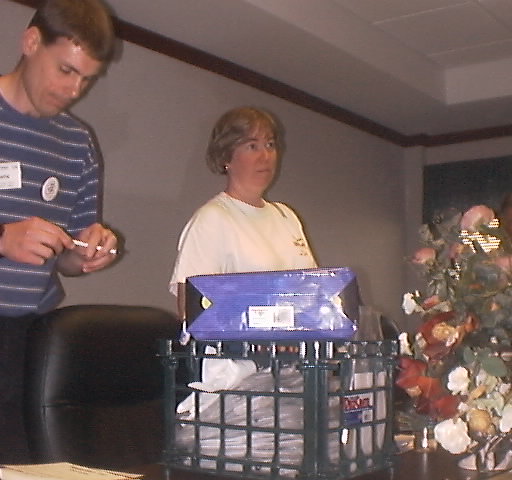 Sue Schnelzer, our host for Harryfest 1999
I need not have worried. We saw old friends and made new ones. Diane Nilsson's presentation was informative and moving, Curtis held us spell-bound as he played some treasures from the [RCA]] vaults. Bob and the band entertained us as we rolled down the river. And many of the Harryheads impressed me with their musical talents during the open-mike session.
Happy, zany, thoughtful, upbeat, serious, and humorous .. it was the perfect kind of weekend to honor Harry Nilsson and his music.
Now, as we prepare for Harryfest 2000, I wonder ....
Meeting wonderful people, while eating and drinking too much.....and playing GREAT music. What more is there to say?
Looking forward to the next one.
Harryfest '99 was one of the highlights of my life. I first fell in love with Harry's music in 1968 or 1969. My first Harry album was Aerial Ballet which was soon followed by Harry. I remember getting Nilsson Schmilsson and Son of Schmilsson during college. I nearly played those records to death and then some. Then came marriage and babies for me and I lost touch with what was happening with Harry. I only knew he never did concerts and I was never one to buy the music magazines. I did play those albums often while raising my children. Many is the time that I rocked my son to sleep with "Little Cowboy." And then, later, I liked to show them how cool I was by playing "You're Breaking My Heart." What a mother! And, in all those years I only personally knew of one other Harry fan.
Finding Harryfest '99 was a synchronistic experience. I had not been on the Internet for long when one night I happened upon the Jadebox Web pages. I started reading about Harryfest '98 and then moved to the Harryfest '99 info. Imagine my surprise that Harryfest '99 was just two weeks away AND it was being held less than 25 miles from my home. There was no question that I would be a part of this thing. Sadly, it was also at this time that I learned of Harry's death.
I made contact with Sue and Tom and offered to help setup. I arrived early Friday afternoon and was immediately introduced to Andrea, someone who knew Harry personally. Wow! This was going to be some weekend. Next was Craig Boldman, the writer for Archie comics, who also lives in my hometown of Hamilton, Ohio. I later got not only a signed copy of an Archie comic but one that was personalized: To my friend Rosemary.
Because Rollie and I were probably the newest comers to this group we found ourselves together a great deal during the weekend. Somehow, Friday night Rollie placed me right next to Curtis Armstrong for dinner! Of course, I found myself star struck and speechless. Thanks for putting up with me Curtis. Curtis did a fantastic presentation about unreleased materials. Since I often sing along with Harry, I had a very hard time not singing! Later I ran into someone unfamiliar in the powder room and too late found that it was Diane Nilsson. This little town girl's heart was quadruple blessed this day.
Friday's open mike session was a mystic experience. Andrea's rendition of the [Cast and Crew | credits]], something I had never heard before left me nearly rolling on the floor. And the session by Cats and Dogs was magical. As Bob stated several times when it comes to Harry's music, 'Sam and Suzi really get it.' If you have seen the video, that was me right behind Bob Segarini.
Saturday, Diane's presentation was marvelous and I could not believe that I was witnessing these intimate windows into Harry's life. Slides of Diane and Harry's travels, experiences with Paul McCartney and others, personal stories one hears once in a lifetime. I only caught a small portion of The Point! as I had to rush home to change for the cruise.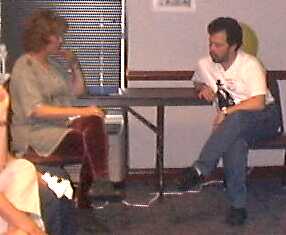 Diane Nilsson and Curtis Armstrong
The cruise was very hot, but the dinner was good and the music unsurpassed. I have never had such a great time on a river cruise. I arrived late so I have a beautiful cruise portrait of my husband together with my best friend Waverly! Hmmm?? I got a chance to speak with Chuck Harter and hear about the progress on the Nilsson documentary. There was also a brief moment to discuss my love of Harry's music with Diane before someone else whisked her away. I will always remember some of the very personal things she shared with me about Harry. And at the end of the evening I got a kiss from Bob Segarini to boot!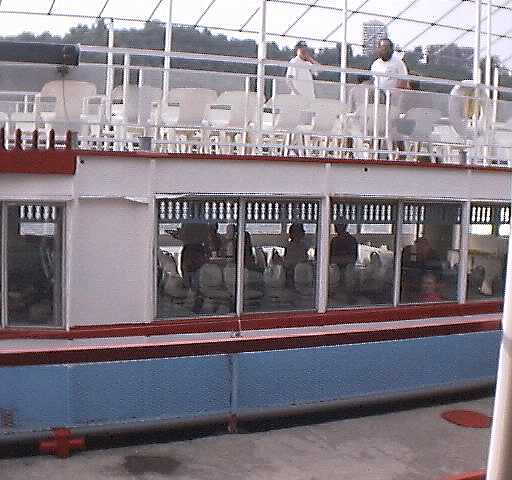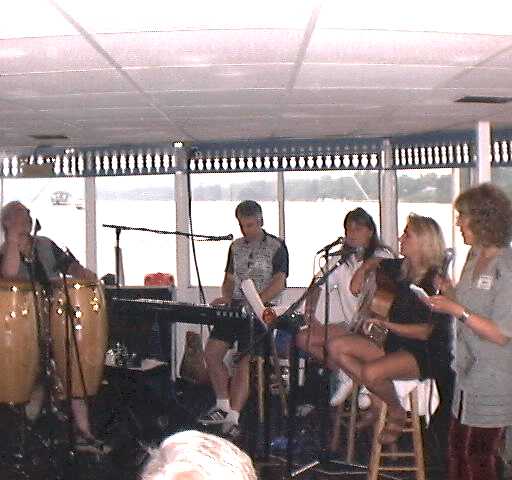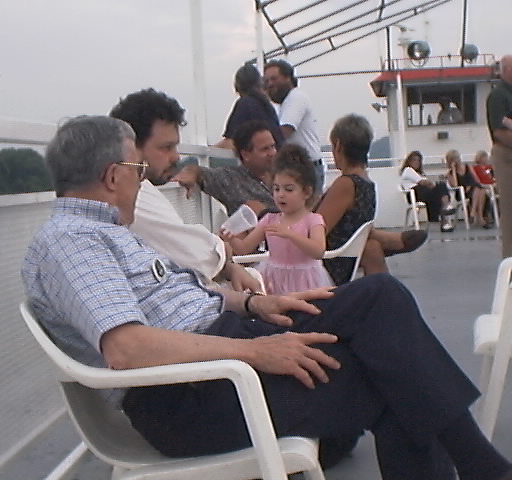 Back at the hotel we settled in for some marvelous videos, a humorous clip of Alan singing about Marianne Faithfull and the story of the earthquake and Harry's casket. There was also a hilarious advertisement of Harry and Ringo on the top of the Capitol records building, but I can't remember what they were singing. And then we settled in for Son of Dracula. Maybe it was the late hour, but I had a hard time sitting still for the entire movie, and at the very end there were only about five people left in the room. I sadly said my goodbyes as I would not be returning in the morning.
Words barely express the wonderful memories I have of Harryfest '99. I made many remarkable new friends and renewed my devotion to Harry's music. Everyone made me feel welcome and I feel honored to have been part of such an amazing group of people who are keeping Harry's music alive. I also learned about Harry's later music and discovered new favorites. I'm not one to analyze all the reasons or the musical details. I just know I loved Harry's music from the first time I heard it. He makes me smile even when he makes me cry. With all the talk about the problems of Pussy Cats, I was a little afraid to buy it. When I received it as a Christmas present I was pleasantly surprised. Although there are differences it is still Harry: One of a kind.
I belong to a group called ACE (Art Cover Exchange). Basically we correspond and send decorated envelopes.
After Harryfest, I included this in most of the letters I sent:
This is the most personal cover I've ever done. Yes, that is me (greying hair, mustache, glasses).
This past July, I talked my wife into going to the Cincinnati Harryfest. What is a Harryfest you ask? Well first I must ask, do you remember the music of Harry Nilsson?
In the late 1960s and early 1970s, he was very big, won two Grammies, was good buddies with The Beatles and sold a lot of records. If you remember the TV series, The Courtship of Eddie's Father, you likely remember the title tune ("... people let me tell you 'bout my best friend..."). Harry Nilsson wrote and sang that. Remember the theme from the film Midnight Cowboy? ("Everybody's talkin' at me, can't hear a word they're saying ...") How about his biggest hit, "Without You" ("Can't live, if livin' is without you, can't live, can't live anymo-o-o-o-re...")?
Ever see the animated film, The Point!? It was about Oblio who was the only person in his village who didn't have a point on his head. And it featured the song, "Me and My Arrow." That song was later used to sell Plymouths.
Does the phrase "put the lime in the coconut, and call me in the morning" ring any bells? More music by Harry Nilsson.
More recently, if you saw the film, You've Got Mail you heard three of his songs including the gorgeous version of "Over The Rainbow" near the end of the film.
Anyhow, a bunch of his fans that met on the Internet met to celebrate his life and his music. And that was Harryfest. I enjoyed myself. My wife humored me, so I tried doing something I thought she'd like while we were there, so I went shopping with her.
The photo on this cover was taken at a gift shop. We bought a Christmas ornament made in Poland (Polonais?) and the lady in the photo was one of their artists. She signed the ornament, and we got the photo.
I got a lot of responses, the most common one was, "I remember and liked the music, but didn't know the name of the artist."