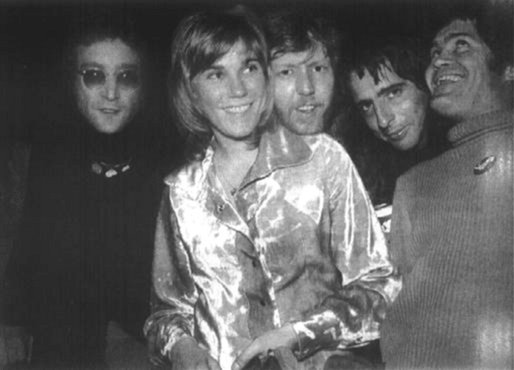 On November 21, 1973, Richard Creamer took this famous photo of John Lennon, Anne Murray, Harry Nilsson, Alice Cooper, and Mickey Dolenz at the Troubadour. It is a part of the Michael Ochs Archives.[1]
In 1973, in an attempt to subvert her squeaky-clean image, Murray hired Shep Gordon as her manager. Gordon was Alice Cooper's manager at the time.
What I was looking for from Shep was to create a buzz in the business, and everybody who was anybody came on The Midnight Special.
-- Anne Murray[2]
It was at a time when hip meant everything, and the last thing The Midnight Special wanted was a straight laced singer from Canada. So I booked her at the Troubadour, and this is all cool, but nobody's gonna give a shit.
-- Shep Gordon[3]
Gordon visited the loft at the Rainbow Bar and Grill where Alice Cooper and his drinking buddies, who called themselves the "Hollywood Vampires," met in Los Angeles.
I went to the Rainbow Room that night and I literally got down on my hands and knees, I said "Guys, you gotta help me. I'm representing this girl Anne Murray, I booked her at the Troubadour and if I could get you guys up there for a picture with her, I'll do anything for you."
-- Shep Gordon[4]
That picture has had more mileage than any other picture that I have ever had taken of me in my career. Rolling Stone wanted to interview me, and I was the "it girl" for just a few weeks.
-- Anne Murray[5]
You can't measure in money what that has done for me. It got printed everywhere Time, Rolling Stone, Creem. People see that and say, "Yeah, man, she must be hip, she must not be so wholesome after all." I don't know how Shep got them there and I don't want to know how.
-- Anne Murray[6]
They look like a bunch of reprobates. And there I am, Miss Innocence, right in the middle of these guys who were totally all three sheets to the wind.
-- Anne Murray[7]
At the time the famous photo was taken, Murray invited Nilsson ("My favorite male vocalist of all time. No contest.") to a recording session. "I wanted to meet him and he didn't even know where he was. He was so out of it. I was so disappointed." Later, in 1993, Murray "tried to get him to tape something for the Junos when I was inducted into the Hall of Fame, and he didn't even know who I was - or who he was, I don't think."[8]
---