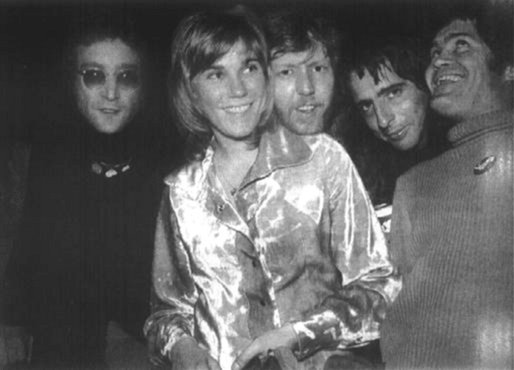 On November 21, 1973, Richard Creamer took this famous photo of John Lennon, Anne Murray, Harry Nilsson, Alice Cooper, and Mickey Dolenz at the Troubadour. It is a part of the Michael Ochs Archives.[1]
In 1973, in an attempt to subvert her squeaky-clean image, Murray hired Shep Gordon as her manager.
What I was looking for from Shep was to create a buzz in the business, and everybody who was anybody came on The Midnight Special.
-- Anne Murray[2]
It was at a time when hip meant everything, and the last thing The Midnight Special wanted was a straight laced singer from Canada. So I booked her at the Troubadour, and this is all cool, but nobody's gonna give a shit.
-- Shep Gordon[3]
Gordon visited the loft at the Rainbow Bar and Grill where Alice Cooper and his drinking buddies, who called themselves the "Hollywood Vampires," met in Kos Angeles.
I went to the Rainbow Room that night and I literally got down on my hands and knees, I said "Guys, you gotta help me. I'm representing this girl Anne Murray, I booked her at the Troubadour and if I could get you guys up there for a picture with her, I'll do anything for you."
-- Shep Gordon[4]
That picture has had more mileage than any other picture that I have ever had taken of me in my career. Rolling Stone wanted to interview me, and I was the "it girl" for just a few weeks.
-- Anne Murray[5]
---