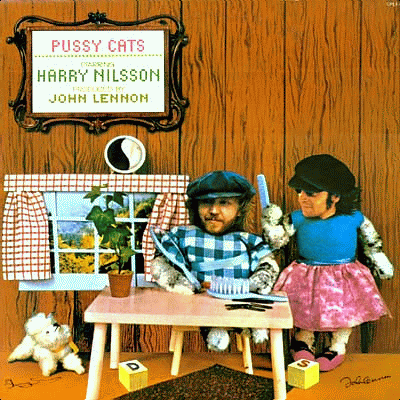 Curtis Armstrong told Nilsson's fans of the upcoming deluxe CD reissue of Pussy Cats in May of 1999. The following is how the announcement was released in the Harry Nilsson web pages.
May 1999
RCA, Nilsson's label for most of his recording career, has announced a 25th Anniversary reissue of the John Lennon-produced Nilsson album, Pussy Cats. The announcement came just months after RCA deleted virtually all Nilsson albums from its catalog.
The re-release will be available on RCA's new Special Products label, Buddha Records, headed by Alex Miller with support and encouragement from RCA archivist Glenn Korman. Both men are avowed Nilsson fans and hope that this re-issue will just be the first in a larger re-release series.
The CD is scheduled for release on Harry Nilsson's birthday, June 15, 1999. The album will include all the original artwork and new liner notes and bonus tracks. Curtis Armstrong has been assisting RCA in the selection of bonus tracks.
The four bonus tracks have already been selected:
A fifth bonus track, Many Rivers to Cross was considered but dropped at the last minute. It is an early mix of the Jimmy Cliff tune. No strings, no horns, no echo - like many of Harry's demos from the archives, this version is, in some respects, superior to the final version. The lead vocal is the same, but the sparce arrangement allows the listener to really hear it for the first time.
If all goes as planned (i.e. if Pussy Cats sells well enough), the next albums being considered for the deluxe re-issue treatment will be, in no particular order, Nilsson Sings Newman, Pandemonium Shadow Show, Aerial Ballet, and Aerial Pandemonium Ballet. The last three albums are particularly rich in unreleased material, while Nilsson Sings Newman could at least boast "Snow," possibly the greatest unreleased Nilsson track from any period.
Alex Miller maintains that the main object of Buddha records will be "to get these albums out and keep them out. None of this making them available for 18 months and then pulling them."
On June 1, 1999, we received some updated news from Curtis Armstrong.


Update - June 1, 1999
A message from Curtis Armstrong:
Got some happy news from Buddha records this morning. The pre-orders for the upcoming re-release of Pussy Cats have exceeded the company's expectations. For an artist of Harry's stature, pre-orders averaging 5000 units is considered doing very well indeed. With the re-release of Pussy Cats still a couple of weeks away, pre-orders are already at 6500. Alex Miller, the head of Buddha records said that this makes his job easier, and we are beginning preliminary work on the next two titles to receive the deluxe treatment: Nilsson Sings Newman and Aerial Pandemonium Ballet. In addition, Barnes and Noble will be featuring a Pussy Cats display in their stores during the month of June.