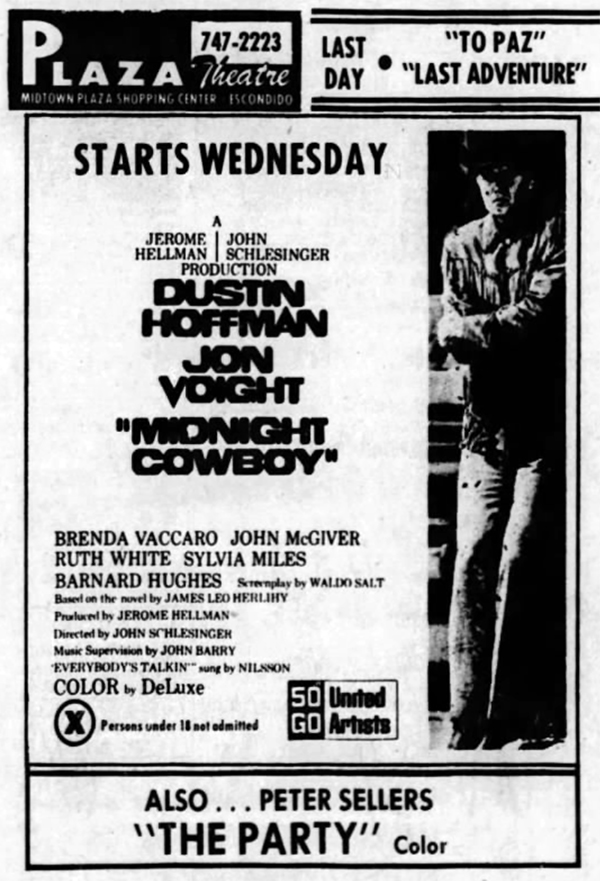 Midnight Cowboy is a film by John Schlesinger which won the Oscar for "Best Picture" in 1969. The film features Harry Nilsson's performance of "Everybody's Talkin'."
The movie studio wanted an original song written for the film, so Schlesinger used "Everybody's Talkin'" just as a placeholder during rough cuts of the film as songwriters such as Bob Dylan and Randy Newman were commissioned to write a new song for the film. Nilsson submitted his own "I Guess the Lord Must Be in New York City" as a candidate. In the end, the filmmakers decided to keep "Everybody's Talkin'" in the film. It became Nilsson's first hit recording and earned him a Grammy.
Snippets of Harry Nilsson's contemplative ballad, Everybody's Talkin', play throughout, offering multifaceted commentary on Joe's circuitous journey. At the beginning, when Joe is optimistic and exuberant, the song plays as an encouraging jingle. As his life and prospects grow increasingly bleak, the lyrics play more as bitter, resentful commentary.
-- Phil Villarreal (Arizona Daily Star, August 12, 2005)
When Midnight Cowboy was re-released to theaters in February of 1994, the new print included a memorial dedication to Harry Nilsson who died the previous month.
Midnight Cowboy 1994 Trailer
Also in 1994, Midnight Cowboy was deemed "culturally, historically or aesthetically significant" by the US Library of Congress and selected for preservation in the National Film Registry.