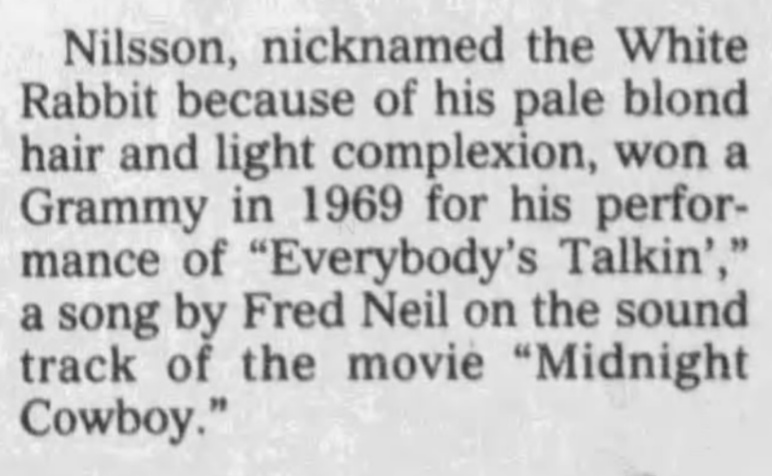 An Associated Press news report on the passing of Harry Nilsson formed the basis for articles which appeared in many newspapers in the days after Nilsson's death in 1994. The report, and the subsequent articles, contained some inaccuracies.
The quotes below are from the New York Times article, "Harry Nilsson, Singer, Dies at 52" by Richard D. Lyons published on January 16, 1994.[1] But, the same quotes appear almost verbatim in many other newspaper articles about Harry's passing published in the days following his death.

Mr. Nilsson won popularity and critical acclaim for a style that was labeled "salon rock," delivered in a voice that was gruff and at times even hoarse.
The reference to "salon rock" is from an article, "Music: Two Solo Troubadours," in the July 13, 1970, issue of Time magazine (Vol. 96, No. 2).[2] An online search of the archives of hundreds of newspapers and thousands of digitized books reveals that the Time magazine article is the only reference, prior to 1994, that describes Nilsson's style as "salon rock."[3]
And, Nilsson, known for his "angelic" voice and 3 1/2 octave range, definitely did not win acclaim for his "gruff" and "at times even hoarse" voice.[4]
Nicknamed the White Rabbit because of his pale blond hair and light complexion, Mr. Nilsson won a Grammy in 1969 for his performance of "Everybody's Talkin'," a song by Fred Neil on the sound track of the movie "Midnight Cowboy."
Again, no reference to Harry being given the nickname "White Rabbit" is found anywhere prior to 1994 - except in the Time magazine article.
Mr. Nilsson, who was born Harry E. Nelson 3d in Brooklyn, adopted the Swedish spelling of his name after he moved to California and began his performing career.
Nilsson was born "Harry Edward Nilsson III." He never changed his name (though he did use the singular name, "Nilsson," as the artist on most of his recordings).
Mr. Nilsson is survived by his wife, Oona, and six children.
Nilsson was survived by his wife, Una, and his seven children.
---