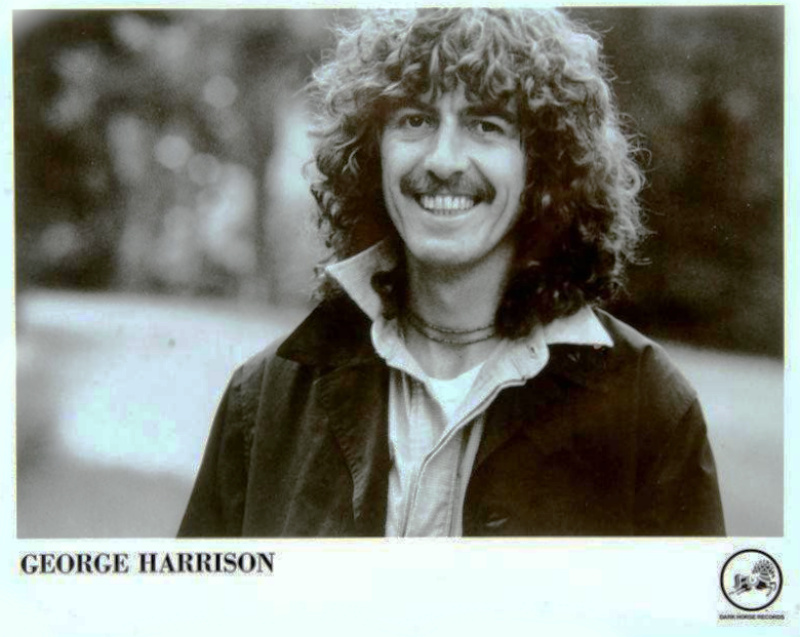 The following was written for the Everybody's Talkin' newsletter after George Harrison, singer, songwriter and guitarist for the world's most famous pop group, died on November 29, 2001. The article is mostly based on posts made to the Harry Nilsson Mailing List in the days following George's death.
Harry Nilsson's friendship with George Harrison began with a meeting in Los Angeles, California. Nat Weiss, of the Beatles's management company, NEMS, brought Harry along to meet the Beatle who was staying in a home on Blue Jay Way. Later, Harrison (as "George Harrysong") played slide guitar on Harry Nilsson's recording of "You're Breaking My Heart" from the Son of Schmilsson album.
Harry's son, Zak Nilsson, remembers visiting George Harrison while Harry was recording "How About You" for The Fisher King at Abbey Road Studios in London, "We were there for a week, and one day after being at Abbey Road for a couple hours, I was told that we were going out to see George. I said 'Uh... what?'"
And so we drove out to George's, uh, monastery-turned-home. I think it needs to be said that while I haven't really met all that many universally and astronomically famous people such as George, he struck me as being very laid back, very kind and marvelously down to earth. I mean, what are super-famous people supposed to be like? They're still just people after all. It was just me, and Harry, and George, his wife Olivia and Dhani, who was I think about 14 at the time, and I was 20. I hung out with Dhani for a bit while George and Harry were talking like old friends do at length.
Later, I got a tour of Maison Harrison, including his studio where they recorded the Wilburys albums. I got a bit of a shock when I saw the wall in the studio literally covered by George's guitars (I'm guessing there were 30 or 40 of them), from all phases of his life. Wilburys guitars, all manner of Beatles guitars, a guitar Elvis gave him... the shock was from realizing just how massively famous George really was, and putting that together with the guy standing five feet away from me, who was mild mannered and pleasant.
We had lunch and stayed a while longer afterwards before leaving. Olivia was charming, Dhani was one of the most well adjusted and outright pleasant 14-year-old kids I've met, and George... well, he was relaxed, down to earth and not at all what I expected from one of the most famous people on Earth, and I thoroughly enjoyed meeting him.
And then George showed up for Harry's funeral a few years later, even in the midst of the chaos due to the earthquake. That's what kind of friend he was. And while I didn't actually hear George say what he said to Una at the wake, he was being more than polite for being there... considering the sort of attention he got wherever he went I imagine it must have been a bit of a burden to go anywhere in public at all. That spoke volumes to me about how much Harry meant to George, and what sort of man we lost a couple days ago.
He helped change the world, he helped set popular music on its ear, but even more importantly... he was a father, a husband and a friend. Even though I can't really say I knew him, I'll miss him. R.I.P. George, and I'll add myself to the countless millions of people whose lives you've positively affected, and join them in thanking you for everything.
After receiving an email from someone who recognized him in news footage of Harrison shown on TV in the days after George's death, Headly Westerfield used the Harry Nilsson Mailing List to tell us of his meeting with George Harrison in 1988.
I was working at CITYtv/MUCHMusic as a Security Guard (before I moved into the newsroom as a writer) when I got a call from a record company. I was told that it was a BIG SECRET, but George Harrison would be arriving at the station within fifteen minutes and that he would need a security detail to get him in and out of the station quickly and efficiently. This was eight years after John Lennon's murder and George was security conscious almost to the point of paranoia. This was one of the reasons the LIVE interview would not be announced in advance.
I rounded up a bunch of people on short notice and we waited for the limo. It pulled into the parking lot right on schedule and we swept George into the station. Even though I was less than a foot away from him, we didn't exchange a word. The video cameras were rolling (which is where the footage of me and George originated) because the stations wanted to capture every second of this appearance. We walked George down to MUCHMusic and then closed the doors so the interview could take place in peace.
George was only on the air for a few moments when the crowd started forming on the street. I knew that we'd never be able to get George out of the station the same way he got in, so I started formulating a new plan to get him out a side door. We enlisted a dummy limo to wait where the first one had dropped off George, while I awaited the end of the interview.
When George came out his bodyguard asked me if there was a place that George could change his clothes. I took him across the hall to the room used as a Green Room and Make-Up Room and, after shooing out the make-up artists, George entered and his bodyguard closed the door.
So ... There I am in a room with just George and his bodyguard, when he starts stripping off his clothing as if there was no one else around. Then suddenly, once his pants are off, he looks at me and I look at him (hell, I had been staring at him the whole time). So there's George Harrison standing in his underwear and it seemed as if I should say something so I said, "Mr. Harrison. I just wanted to thank you for all the joy your music has brought me."
He thanked me and then asked me to call him George! Call him George?! I'm on a first name basis with a Beatle!
I won't bore you with the machinations worthy of James Bond which allowed him to leave the station undetected other than to say he was on his way in less time than it would take to tell.
That was my one, and only, meeting with George Harrison, but it is a day I will never forget. May he rest in peace.
Harrison's family has released a statement saying, "He left this world as he lived in it, conscious of God, fearless of death, and at peace, surrounded by family and friends. He often said, 'Everything else can wait, but the search for God cannot wait, and love one another.'"