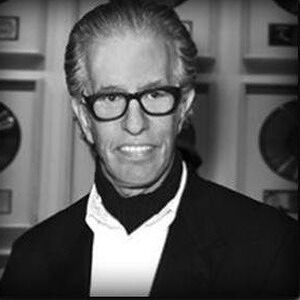 Richard Perry has produced at least fifteen gold records including Harry Nilsson's best-selling album, Nilsson Schmilsson.
Born and raised in Brooklyn, New York, Perry contracted polio when he was twelve. Overcoming the disease, he became a successful high jumper on his high school track and field team.
Perry's interest in music began at a young age. It's not surprising since his mother, Sylvia, was a graduate of Juliard and a piano teacher. His parents, recognizing a lack of musical education for younger kids in school, started Peripole. Peripole is still a major supplier of musical instruments to schools.[1]
Perry graduated from the University of Michigan in 1964 with a degree in music and theater then formed his own record production company, Cloud Nine Productions. Shortly after moving to Los Angeles, he produced Tiny Tim's debut album, God Bless Tiny Tim which reached number 7 on the pop chart.
A string of hit records followed including Barbra Streisand's Stoney End, Ringo Starr's Ringo, Carly Simon's No Secrets, and Diana Ross's Baby It's Me.
Perry produced Ray Charles's1993 album, My World and worked with Rod Stewart on the Great American Songbook recordings.
Although, Perry was diagnosed with Parkinson's Disease in 2003, he has continued to work and to write.
Richard Perry was nominated for a Grammy award seven times. His work with Harry Nilsson garnered his first nominations in 1972 for Record of the Year ("Without You") and Album of the Year (Nilsson Schmilsson). He never won, but in 2014, Richard Perry received a Special Merit Trustees Grammy recognizing his contributions of outstanding artistic significance to the field of recording.
---
---
External Links