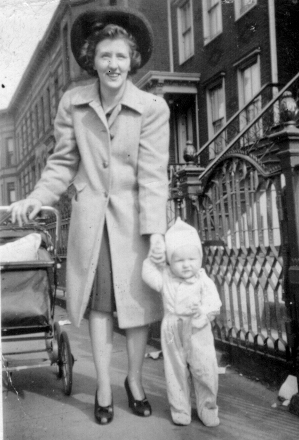 Harry Nilsson's mother Elizabeth Nilsson (born "Elizabeth Martin") was known as "Bette" to the family. She was born in 1920 in New York to Charles Augustus Martin and Florence Madeline Martin (nee Stotz). She had one brother, John, and a sister, Mary ("Cissy").[1]
Bette married Harry Edward Nilsson, Jr. on September 16, 1940.[2] Their son, Harry Nilsson was born on June 15, 1941. A second son, Drake Nilsson, was born on November 21, 1949.
Bette married George Fallon on October, 10, 1961.
Bette died on November 21, 1979. At the time she resided in the Los Angeles, California, area and ran a small antiques store.[3]
The photo[4] was taken on Monroe Street in the Bedford Stuyvesant section of Brooklyn, New York. [5]
---