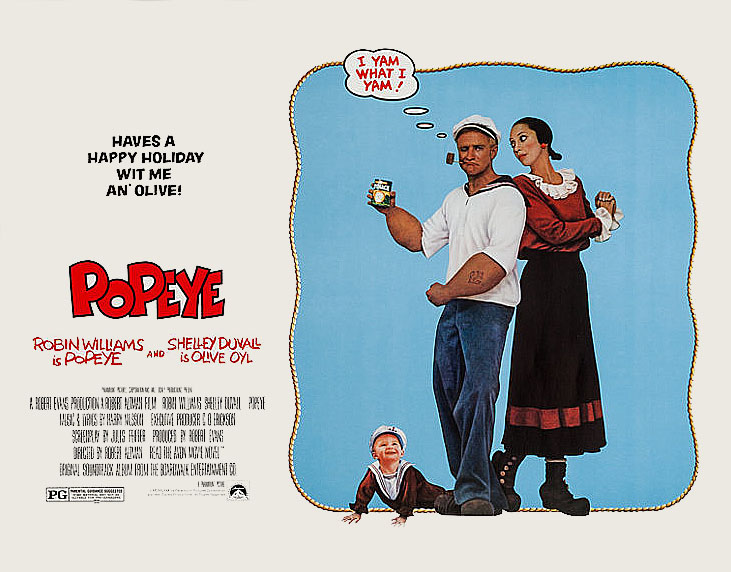 "Popeye" is a live action film which features Robin Williams and Shelley Duvall as Popeye and Olive Oyl. In the film, everyone's favorite spinach-eating sailor (although he hates spinach at the start of this film) falls for Olive Oyl and battles his arch-rival Bluto.
Near the end of the 1970s, Producer Robert Evans commissioned screenwriter (and political cartoonist, novelist, and playwright) Jules Feiffer to write a script for a live action version of "Popeye."[1] The script was passed from one director to another (including Hal Ashby, Arthur Penn and Mike Nichols) before Robert Altman ("M*A*S*H", "Nashville") ended up heading the project. At one point Dustin Hoffman and Lily Tomlin were signed on as Popeye and Olive.[2]
Once Robert Altman was chosen to direct the film, he wanted Robin Williams and Shelly Duvall to play the lead characters. The executives at Paramount had already decided that Williams would star as Popeye, but they wanted Gilda Radner to play Olive Oyl. Altman and Duvall felt it was a role she was born to play. "[,,, As] a kid, everyone called me Olive Oyl because I was taller than any of the boys were in class."[3]
Even though they learned that Radner was not available due to other commitments, the Paramount execs were still not sure about Duvall. "So, one night. Bob and I sneaked into a recording studio and with Harry accompanying me on the organ, I sang, "He Needs Me." Bob took the record and some footage from "Thieves Like Us" and showed it to [ Charles Bluhdorn ], the chairman of Golf and Western which owns Paramount, [ Barry Diller ], and [ Michael Eisner ], and they loved it and the part was mine." [4]
Altman took the cast and crew to Anchor Bay on the island of Malta. Over 100 men worked seven months to construct the Popeye set. Wood had to be imported from Canada. When they finished, the fictional village of Sweethaven consisted of nineteen buildings including a hotel, a school-house, a store, a post office, a church, and, of course, a tavern.
The film's score and songs are by Harry Nilsson. "Nobody wanted him at first except Robin Williams. Everyone said 'You'll get in trouble with him -- he'll get drunk; he won't do it; he's all washed up.' As a matter of fact I said all of those things about Harry to Robin myself one day. Then I went home and thought about it and said to myself, 'Jesus, that's what some people are saying about me!' So I called Harry Nilsson, because I had never met him in my life, and we got along terrifically." -- Robert Altman.
Harry Nilsson took the musicians to Malta where a studio was constructed for their use. The musicians dubbed themselves, "The Falcons." Ray Cooper, Doug Dillard, Harry Nilsson, Van Dyke Parks, Klaus Voormann, and "The Mysterious Karsten" recorded the basic tracks on the island as the set was finished and filming began. Van Dyke Parks arranged and conducted the music. Ray Cooper, Doug Dillard, Van Dyke Parks, and Klaus Voormann make brief appearances in the film.
We were stuck on that bloody island for four months and the powers-that-be have butchered the music horribly.
-- Harry Nilsson (1981)[5]
The climatic octopus fight was filmed in Fifla. The Sweethaven set still stands in Anchor Bay as a tourist attraction.


Soundtrack
Popeye Original Motion Picture Soundtrack Album
The soundtrack album was engineered by Rick Riccio and Mike Hatcher. Harry Nilsson wrote all of the songs except for "I'm Popeye the Sailor Man". The album was released on LP and may have been briefly available as a CD in Europe.
Mark Guerrero, son of singer/composer Lalo Guerrero, provided background vocals for the demo of I'm Mean.
The New Jersey group Guitari incorporated samples of I Yam What I Yam, Sailin', and It's Not Easy Being Me, from the Popeye soundtrack album in their songs "Hero" and "I Yam What I Yam (Popeye Rap)."
Film critic, Sean Burns, describes the plot of Popeye as:
A lone drifter arrives in a ramshackle town. The locals regard him with suspicion at first, slowly warming to his oddball nature despite what seems to be the guy's lifelong habit of always making the wrong enemies. He becomes smitten with a woman way out of his league, but she coyly withholds her obvious affections. A confrontation is brewing between this misfit hero and a sinister criminal organization aiming to bleed this sleepy little village dry — a showdown for which our man may very well be outmatched. The soundtrack is loaded with melancholy songs from a 1970s troubadour and the dialogue mixed so low and mumbly you can barely understand a damn word anybody is saying.
Burns then notes that the description also applies to Altman's critically acclaimed 1971 film, McCabe & Mrs. Miller. He goes on to praise Popeye as "a wonderful movie, beguiling and deeply strange."[6]
"If you watch it backwards, it has a plot." -- Robin Williams[7]
---