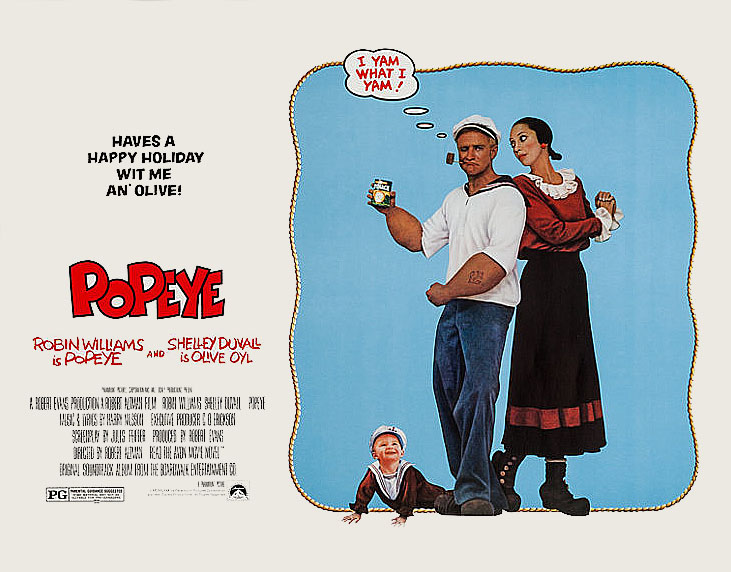 "Popeye" is a live action film which features Robin Williams and Shelley Duvall as Popeye and Olive Oyl. In the film, everyone's favorite spinach-eating sailor (although he hates spinach at the start of this film) falls for Olive Oyl and battles his arch-rival Bluto.
Near the end of the 1970s, Producer Robert Evans commissioned screenwriter (and political cartoonist, novelist, and playwright) Jules Feiffer to write a script for a live action version of "Popeye."[1] The script was passed from one director to another (including Hal Ashby, Arthur Penn and Mike Nichols) before Robert Altman ("M*A*S*H", "Nashville") ended up heading the project. At one point Dustin Hoffman and Lily Tomlin were signed on as Popeye and Olive.[2]
Altman took the cast and crew to Anchor Bay on the island of Malta. Over 100 men worked seven months to construct the Popeye set. Wood had to be imported from Canada. When they finished, the fictional village of Sweethaven consisted of nineteen buildings including a hotel, a school-house, a store, a post office, a church, and, of course, a tavern.
The film's score and songs are by Harry Nilsson. "Nobody wanted him at first except Robin Williams. Everyone said 'You'll get in trouble with him -- he'll get drunk; he won't do it; he's all washed up.' As a matter of fact I said all of those things about Harry to Robin myself one day. Then I went home and thought about it and said to myself, 'Jesus, that's what some people are saying about me!' So I called Harry Nilsson, because I had never met him in my life, and we got along terrifically." -- Robert Altman.
Harry Nilsson took the musicians to Malta where a studio was constructed for their use. The musicians dubbed themselves, "The Falcons." Ray Cooper, Doug Dillard, Harry Nilsson, Van Dyke Parks, Klaus Voormann, and "The Mysterious Karsten" recorded the basic tracks on the island as the set was finished and filming began. Van Dyke Parks arranged and conducted the music. Ray Cooper, Doug Dillard, Van Dyke Parks, and Klaus Voormann make brief appearances in the film.
The climatic octopus fight was filmed in Fifla. The Sweethaven set still stands in Anchor Bay as a tourist attraction.


Soundtrack
Popeye Original Motion Picture Soundtrack Album
The soundtrack album was engineered by Rick Riccio and Mike Hatcher. Harry Nilsson wrote all of the songs except for "I'm Popeye the Sailor Man". The album was released on LP and may have been briefly available as a CD in Europe.
Mark Guerrero, son of singer/composer Lalo Guerrero, provided background vocals for the demo of I'm Mean.
The New Jersey group Guitari incorporated samples of I Yam What I Yam, Sailin', and It's Not Easy Being Me, from the Popeye soundtrack album in their songs "Hero" and "I Yam What I Yam (Popeye Rap)."
"If you watch it backwards, it has a plot." -- Robin Williams[3]
---
[1] "Popeye, the Sailor Man, To Star in Movie Musical" The New York Times (1978-07-19)
[2]

Village Voice, Andrew Sarris (1980-12-17) "Popeye"

[3] Actually, Popeye received mostly positive reviews when released and has a 63% "Fresh" rating on Rotten Tomatoes. It cost about $20,000,000 to make and earned about $120,000,000 world-wide at the box office.