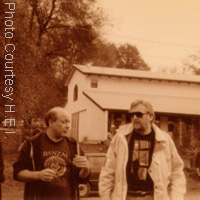 In 1967, Eugene Jeffrey ("Jeff") Gold was Harry's official photographer. E.J. (as "Jeff Gold") took the photographs intended for the cover of Harry Nilsson's first RCA album when the album was to be called Something Wicked This Way Comes. Some of the photos are seen on the back cover of Pandemonium Shadow Show.
Around 1992, Harry and E. J. collaborated on "The Moonbeam Show." It features artwork (ceramic, primarily) by Gold based on songs by Nilsson.
Harry, Una, and their children spent Harry's last Christmas in 1993 at E.J.'s artist enclave near Nevada City, California.
E.J. Gold is the edited and published the new Galaxy Magazine. The original Galaxy was edited by his father, the science fiction writer H. L. Gold, whose stories were featured on the radio program "X Minus One." An early issue of E. J.'s Galaxy magazine featured a short story by Harry called "The Boy Who Always Said No."
---
External Links