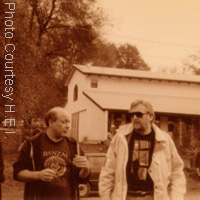 This article originally appeared in Everybody's Talkin'.
By E. J. Gold
My stepfather worked in the late fifties and early sixties as the marketing director at Capitol Records until he was put out to pasture on an empty desk when EMI Britain took over and installed their own people in key positions - as is the wont of all major corporations. Until that downsizing, I spent a considerable time at Capitol, meeting many industry people only incidentally, since I didn't work there.
My friend Sheila, who used to work at Capitol, often drove Harry around before I did, and we had at that time what amounted to an eye-contact introduction and, like Mac Rebennack who was also there at those first RCA sessions, we didn't actually connect as friends until sometime later.
Sometime in 1967, after I quit KNX/KNXT/Columbia, where I was on salary, and Elektra and Mercury studio vocal overdub gigs, where I wasn't, I suddenly found myself on staff at a number of teen magazines, and freelancing for Ralph and Charles at Tiger Beat/MONKEE Spectacular. I also worked for Mod Teen, of which I was editor, and five other teen-fan rags.
Jack Lewis and I cut some demos at Gold Star (who didn't?) in the mid-sixties, and worked clubs in the Los Angeles, California, area as a very unfunny comic team. I might have met Harry briefly at this time, but frankly would have been more attentive to Perry Botkin or George Tipton.
My wife Linda and I lived on the wrong end of Sunset, the Silverlake District, on Edgecliffe, and one night I got a phone call from my friend, Grelun Landon, whose wife was an ardent sci-fi fan, and Gre was aware that I'd been working as a photographer and teen fanzine writer (I can't bring myself to say 'author').
The upshot of the call was that I should get into a car and go directly to RCA's studios on the ground floor of the RCA Hollywood building, so I could meet and help publicize their new discovery, Harry Nilsson.
I duly loaded my cameras and tape recorder (early Sony) into my hand-painted NSU Spider, called my wife Linda to tell her where I'd be for the next unknown number of hours, and rattled off in the direction of Ivar and Sunset.
I was allowed a space in the parking structure and escorted to the studio, where Harry was talking with Rick Jarrard and my good friend, Bill Graham, Jr.. Bill was also very excited about Harry, and I knew I was in for something artistically special.
After a couple of years working onstage and off with the denizens of Be-Ins, Love-Ins, Freak-Outs and other bizarre mating practices, I was ripe for good music any time. (I had hung out with jazz greats in NYC and was spoiled for the AM market by the time I was a year old.
I auditioned "Without Her", which Harry had brought with him to RCA, according to my understanding, so that Rick could hear it with several upstairs folks (what we called Joe Reisman and associates), then Harry and I talked a bit, mostly about science fiction (he was a longtime Galaxy Magazine fan and had the wish to be a Galaxy author since he had first read it as a youngster).
After the excitement following the audition had died down - it took a while, believe me, because nobody in the industry had ever heard anyone quite like Harry before - several of us, Harry among them, had lunch at Martoni's, hit it off great, were great friends thereafter, and still are.