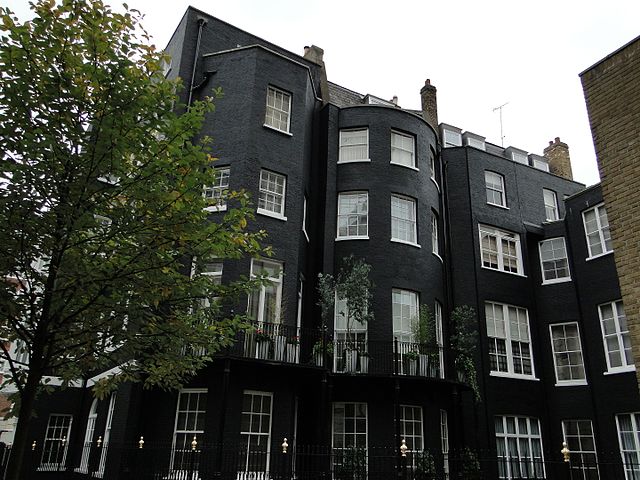 Harry Nilsson once owned apartment #12 at 9 Curzon Place in London, England. Curzon Place is a cul-de-sac off of Curzon Street in Mayfair. Built in the 1700s, the building was located near the Playboy Club and several casinos.
The building was gutted just after World War II. An elevator was installed and 12 apartments were built inside. Nilsson's two-bedroom flat was on the top floor of the building.
Harry Nilsson bought the apartment in the early 1970s. Ringo Starr and Robin Cruikshank were hired to redecorate the flat.
Flat 12, 9 Curzon Place was located at the very top right hand side of the apartment block, overlooking the Hilton hotel. It was quite a dark flat, with low ceilings and the walls were covered with dark blue velvet wallpaper with a red stripe in the middle going round the whole flat. There were wall-to-wall beige rug-type carpets, the kitchen was placed in the middle of the flat with sky light windows over it, it was done in a cream colour, and the entrance to the kitchen was right in front of you as you came in through the front door. Down the hallway to the left there was the bedroom, a study and the bathroom. Sitting room to the right, with a large, dark grey corduroy sofa with two matching armchairs and proceeding to the right, around the corner, now you were in the dining room with a long conference-like dining table seating about ten people and had thereby walked around the entire flat.
Nilsson's apartment is infamous because two famous pop performers died there during the time Harry owned it.
On July 29, 1974, Mama Cass died in the apartment. Later, on September 7, 1978, Keith Moon also died there.
After Moon's death, Nilsson sold the apartment to Pete Townshend.
During the 1990s, the building was virtually abandoned. In the late 1990s, John Latsis purchased 9 Curzon Place and neighboring properties. While other buildings were torn down, number 9 was remodeled as luxury apartments (with a new address of 1 Curzon Square).
---
---
Citations Needed.

Main Photo by Egghead06, CC BY-SA 3.0 via Wikimedia Commons
---
External Links