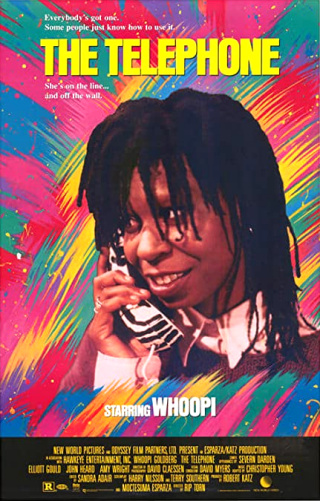 The Telephone was directed by Rip Torn from a screenplay written by Harry Nilsson and Terry Southern. Hawkeye Entertainment produced the film.
Whoopi Goldberg stars as an eccentric out-of-work actress, disconnected from reality, who ignores the threatening calls from her many creditors, choosing instead to amuse herself with the telephone. But her quiet and whimsical evening alone turns into a circus - one with a crazy grand finale.
Terry Southern and Harry Nilsson wrote the script with Robin Williams in mind. But they we not able to present the script to Williams - "Robin's scripts have to go through his wife, and she wouldn't give it to him" according to Southern.
Bruce Johnston wrote the song "Happy Endings" for The Telephone. Little Richard joined the Beach Boys to record the song.
In her one-woman show, Whoopi Goldberg was a fresh and original hit on Broadway. But The Telephone, which is essentially a one-woman movie, fails to ring any bells. The screenplay by Terry Southern and Harry Nilsson is mostly a series of monologues, with Goldberg, cast as an out-of-work actress, talking on her zebra-striped telephone. They might as well have asked Goldberg to carry off reading the phone book. This is a cheap, labor-intensive idea for a movie, but no amount of manic invention could have saved it. The Telephone is as dull as it is exhausting to watch. When Elliott Gould and John Heard pay brief visits to Goldberg's apartment, they do little to relieve the film's claustrophobia, but they offer some needed relief from her racing, steamroller monologues.
Hawkeye Entertainment produced the film.
Feeling that she had not been allowed to participate in the editing of the film, Goldberg produced her own edit of The Telephone which New World Pictures and Telephone Prods. Inc. intended to release, but Rip Torn and the Directors Guild of America filed for arbitration against that decision. An arbitrator ruled that a disclaimer had to be placed on all prints of Goldberg's version of the film stating it had been "edited in violation of the DGA basic agreement" and that ads must be produced stating the same. In response to the ruling, New World decided to release Rip Torn's version.[1]
In September of 1987, Whoopi Goldberg filed a lawsuit in Los Angeles Superior Court against New World Pictures and the film's director, Rip Torn, seeking an injunction to stop the film's release (plus $5 million in punitive damages and $100,000 in actual damages). Goldberg claimed that her contract gave her the right to be involved with editing the film, but that "she was not allowed to attend all editing sessions or share in cuts." The judge ruled against Goldberg on October 27, 1987.[2]
The film took in $54,811 at the box office during its opening weekend on fifty screens.[3] The total box office gross for the film was $99,978.[4]
The script by Harry Nilsson and Terry Southern is reasonably clever and might have worked as a half-hour Twilight Zone.
-- LA Weekly (1988)[5]
---