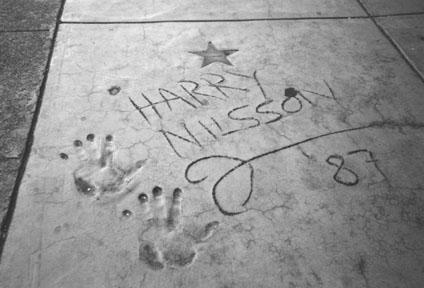 A touch of Harry Nilsson's humor was captured in concrete in San Francisco, California. The "Starwalk"[1] was located on Seventh St. between Folsom and Harrison in front of what was, at the time, the home of San Francisco Studios. In addition to Nilsson, it included handprints of Whoopi Goldberg, Rip Torn, and other celebrities.
The San Francisco Studios opened in 1985. Harry placed his hands in the concrete in 1987. The Studios closed in 1990. Many of the celebrity handprints, including Harry's, are no longer there.
The Telephone was filmed at San Francisco Studios. The film's star, Whoopi Goldberg, was the first celebrity to be immortalized in the sidewalk. Harry Nilsson's Hawkeye Entertainment produced The Telephone. Rip Torn was the director of the film.[2]
Thanks to Art Medlar for the photograph.
---
[1]

The "Hollywood Walk of Fame" has a trademark on the phrase "Walk of Fame."

[2] "Morning Report" Los Angeles Times (1987-01-28)