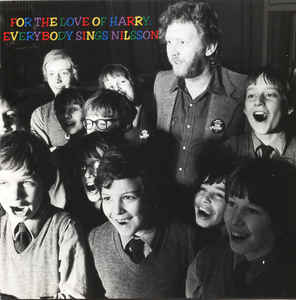 Released on May 9, 1995, the tribute album, For the Love of Harry: Everybody Sings Nilsson is a collection of Nilsson's songs recorded by various artists. Originally conceived by Al Kooper as a way to help Harry with his financial difficulties, the project became a benefit for the Coalition to Stop Gun Violence,
Although released after Harry died, Kooper, whose band, Blood, Sweat & Tears, had recorded Harry's "Without Her" and "Mournin' Glory Story," enlisted producer Danny Kapilian in 1993 to help and, with Harry's blessing, they began lining up artists to record songs for the album. Harry suggested that they include a song by Jellyfish, one of his favorite bands.[1]
"<a href="https://nilssonschmilsson.com/remember-christmas-210526130534.html">Remember (Christmas)</a>" Performed by <a href="https://nilssonschmilsson.com/randy-newman-210525215921.html">Randy Newman</a>
---
[1]

Al Kooper (1994) "For The Love of Harry Liner Notes"
---
External Reviews