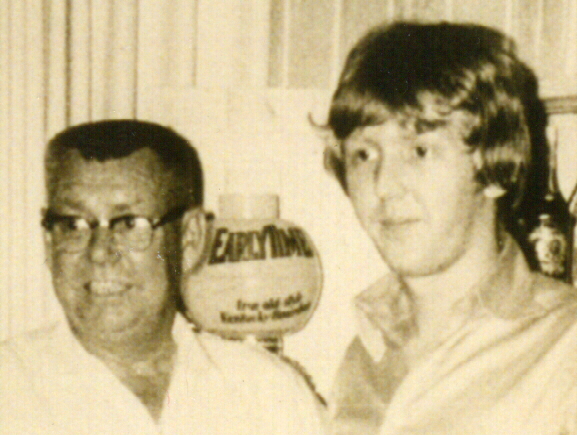 By Roger Smith
Originally Published in Everybody's Talkin' #17
In 1968, Harry Nilsson was living in a small, Central Florida town with his wife, Lois, and his son Gary. Harry had an older son from a previous marriage.
The older son, also named Harry, was a singer and songwriter living in California. Harry had two copies of his son's Pandemonium Shadow Show album stacked up on the turntable – two copies so the automatic changer would play both sides of the LP.
Harry was nervously preparing to meet the son he hadn't seen for more than 15 years[1]. The younger Harry was flying to the airport in Jacksonville, Florida, where Harry and Lois were to meet him then drive to the Nilsson's home in Palatka. The next day, they would head to Miami for the premiere of the film Skidoo – the younger Harry Nilsson had composed the music for the film.
Unfortunately, the plans changed when the film's director, Otto Preminger, asked that the younger Harry and the film's stars all arrive in Miami at the same time. So Harry and Lois drove down to Miami and stayed the night with a relative. The next morning, they arrived at the Ambassador Hotel to meet Harry where they learned that Harry was busy doing a television interview. They were shown to Harry's room to wait for him.
Harry's room was a posh suite with two televisions. The Nilssons were checking out the view of the beach when the door buzzer sounded and a nervous Harry Nilsson walked in. The two Harry's had not seen each other since younger Harry had been 12 and living in Brooklyn, New York.
Father and son stood looking at each other for a moment then the elder Harry extended his hand. The younger Harry put out his hand then said "Aw heck" and embraced his father with a bear hug. Lois stood in the background but was not forgotten for long as Harry Nilsson gave her a hug, too.
The Nilssons met many of the film's stars at the premiere of Skidoo and were given the star treatment as they were driven around in a black limousine and wined, dined, and entertained. "We were entertained royally," the older Harry said, but "the most wonderful thing was seeing my son after all those years."
The above is based on news articles published in the Palatka Daily News in December of 1968 and the author's discussions with Gary Nilsson.
---
[1]

This is what the Palatka Daily News reported. Actually, Harry's father had visited Harry in California a couple of months earlier.