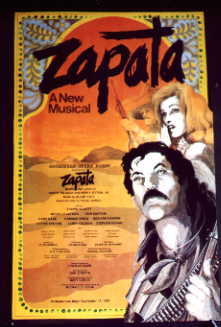 Emiliano Zapata Salazar was a leading figure in the Mexican Revolution of 1910 to 1920. After his assassination in 1919, Zapata became a legendary figure and a powerful symbol of the Mexican Revolution.
On September 17, 1980, Zapata, a stage play written by Allan Katz (based on an earlier draft by Rafael Bunuel) with songs by Harry Nilsson and Perry Botkin, opened at the Goodspeed Opera House in Chester, Connecticut where it played for sixteen weeks, but failed to move on to Broadway.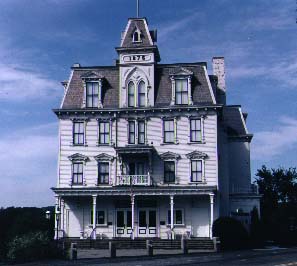 The Goodspeed Theater
Harry attended the opening wearing a garish hat presented to him by Ringo Starr (who sported his own unusual headwear).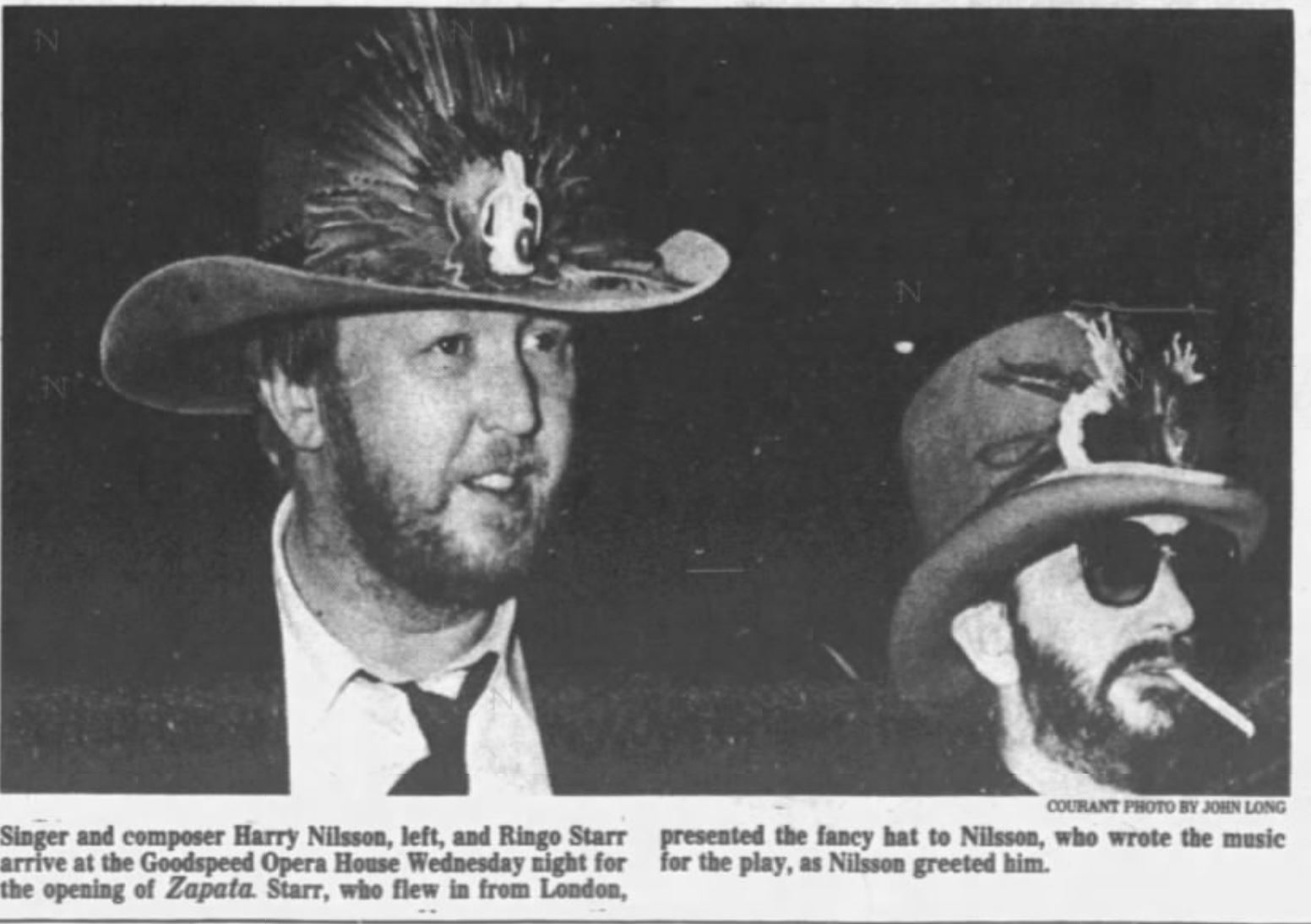 Ringo's appearance at the opening was not announced in advance. A small crowd waiting outside the theater included a few photographers. When asked by an elderly woman who they were waiting for, one of the photogs said "Ringo Starr." Unfazed, the woman asked "Oh, is he in the play?" [1]
Actors Shawn Elliott and Donna Murphy first met while working in "Zapata." They later married.[2]
Not every new Goodspeed offering is such a hit, of course, but the one currently on the boards, "Zapata!" is not even a miss, it's a genuine fizzle. It's not that the idea of doing a musical on the life of Emiliano Zapata, the Mexican revolutionary, was a poor idea. It could have been a probing, trenchant, dramatic, insightful story of an ignorant farmer of high ideals leading men in the fight for land rights.
Instead, we get an old-fashioned Hollywood-cliche sort of red-white-and-green Mexico where intelligence is banished, where the natives sing Ay-ay-ay, where decisions are made with the snap of a finger, the hint of a song. It's TV-land, where each episode must fit neatly into 10-minute sequences (as if to allow for commercials). Glibness reigns unrestrained, people are reduced to ciphers and stooges.
-- Thor Eckert, Jr. (1980) [3]
Creating a Broadway musical based on the life of Zapata was a pet project of Bert Convy. In 1978, he told a reporter:
I've been waiting 14 years for this, and I think I've finally got it together. It's my own musical. I've been carrying this idea around all that time, researching it, trying to bring all the elements together, and I finally realized that if I wanted to do it right, I was going to have to write it myself.
The subject is Zapata, the Mexican revolutionary figure. The real story this time, which is much more interesting than the movie. Although the movie is my all-time favorite.
I will write, produce and direct it. And I've found the right collaborators to do the music - Harry Nilsson and Perry Botkin Jr. They've written 10 songs.
-- Bert Convy (1978) [4]
In another 1978 interview, Convy said that he intended to write the book for the play and had enlisted the help of Rafael Bunuel (a sculptor, screenwriter, and the son of filmmaker Luis Bunuel). Convy expected to produce and direct the play which was to open in Los Angeles in 1979 with an all-Chicano cast.[5]
In 1979, Convy said that he and Raphael Bunuel wrote the original script then handed it over to Allan Katz ("M*A*S*H," "Laugh-In") to add a comedic touch giving the project a mass appeal. Convy stated that he would produce and direct the play but would not perform. Convy expect the show to open in May of 1980 on Broadway but said that a preview performance might run in St. Louis in January of 1980.[6]
[...]A greater disaster was "Zapata," last season's new musical. Conceived by director Bert Convy, with music by Harry Nilsson and Perry Botkin Jr., the show was an unmitigated fiasco. Once again, leading man problems arose. Convy chose Shawn Elliott, a string-bean tenor, with a weak voice, to play the Mexican revolutionary. Critics sneered at the whole production.[7]
---