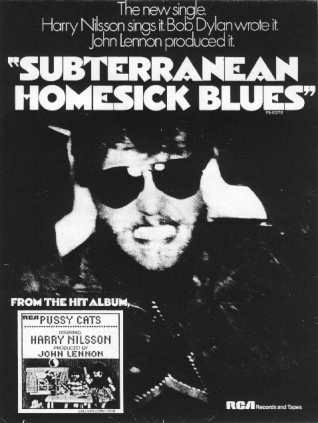 "Subterranean Homesick Blues" by Harry Nilsson
Johnny's in the basement

Mixing up the medicine

I'm on the pavement

Thinking about the government…
"Subterranean Homesick Blues" was Bob Dylan's first hit song, It just made it into the Top 40, peaking at number 39 on the Billboard Hot 100 the week of May 15, 1965.
Harry Nilsson recorded the song for his 1974 Pussy Cats album. It was also released as a single.
Between the time that John Lennon produced Nilsson's recording of Dylan's song in the early spring of 1974 and the release of the album in August, the radical anti-war group, The Weathemen planted bombs which damaged offices of an attorney in Los Angeles and the 26th floor of the Gulf Oil building in Pittsburgh, Pennsylvania.[1] [2] Contemporary articles about the bombings often quoted a lyric from "Subterranean Homesick Blues" which provided the inspiration for the group's name:
You don't need a weatherman. To know which way the wind blows.
---