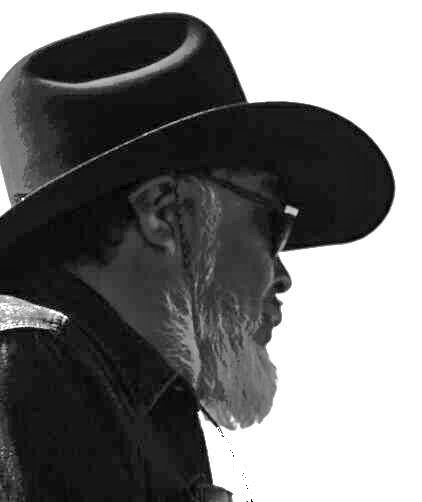 Buck Earl's only hit recording - his version of Harry Nilsson's song "Joy" - was released as a single by RCA in 1972.
Buck Earl never achieved the success of many of his peers, but he has left us a legacy of wonderful music. The trademark Buck Earl style (featuring the sound of twangy chimes and fuzzy harps) has left an incredible mark on today's musical artists such as Tom Allen and Henning Ohlenbusch.
Buck Earl was born Henryk Horace Hudson on April 1, 1941. His father, Henryk Sr., was an aged Army General. His mother, Angela, worked part-time for Lands' End.
When Henryk was just three years old, his mother gave him his first violin and taught him to play "I Have Dreamed."
When Buck was six, his father left to fight the war in Korea. Buck and his mother moved in with his aunt Barbara.
Henryk left his aunt's Brooklyn home at a young age and headed west on Highway 43. Inspired by cowboy western musicals, he changed his name to Buck Earl. Unable to find work as a singing cowboy, Buck took many odd jobs.
Buck Earl's many odd jobs included the six months he worked as a bag boy at Sebastian's Store where he learned the value of hard work. His manager, Alfred Bovier, describes Buck Earl as "a hard worker who would give you the shirt off his back."
Buck Earl appeared as "Bobby Brady" in Hal Zieger's production of Jerry Smith's adaptation of Kurt Vonnegut's "Citizen Kane." The play, starring Jim Keltner, opened to favorable reviews at the Paramount Theater in Westwood but closed after two weeks. The Grunion Gazette described Buck Earl's performance as "erotic."
As a bus boy at the famous Red Roof Inn in Brentwood, California, Buck met a woman who was destined to change his life.
The hours were long, the work was hard, and his paycheck seldom lasted him more than a few days. Buck supplemented his measly income by singing at the Red Roof Inn. His bluesy vocals and steel drum playing earned him just a few dollars a week, but he perfected his art and began writing his own songs.
The first song he wrote was called "At the Gas Station of Love, I Got the Self Service Pump" which he sang at the 1960 Pasadena Music Festival. In an article in The Sydney Morning Herald, rock music critic, John Babcock, described Buck Earl's performance as "moving" and "breathtaking." The critic described the crowd's reaction to the song, "the audience screamed and shouted 'Sheesh.'"
In early 1961, frustrated by his lack of success in California, Buck headed east and took up residence in Greenwich Village in New York. His bluesy voice and bluesly guitar attracted the attention of Bob Dylan, Fred Neil, Benito Santiago, and other Village musicians.
In December of 1961 Tom August arrived in the Village and discovered an attraction to the mysterious man in the cowboy hat. "He showed me where to eat, where not to go, how to roll a proper joint, where to get guitar strings," August recalls sadly. "He taught me everything he knew."
It was in Greenwich Village that Buck Earl began a practice that, while creating an aura of mystique about him may have contributed to his lack of later success. Buck stopped introducing himself on stage and refused to allow his name to be used in conjunction with his concert appearances.
In the early 1967, Buck left behind a legion of mostly confused fans and headed back west to the woman he had left behind.
Back in California, Buck Earl recorded a couple of radio commercials. He recorded a larky ditty for Rumpelmayer's and a 30-second spot for Unison's new line of designer magic markers.
In late 1967, Buck recorded a few demos for David Geffen. The recordings have never been released but those who have had the rare opportunity to hear them have described the songs as "intelligent" and "magnificent".
Around the same time, Buck returned to the hotel circuit. This time he played guitar for the Lebrea Inn's house band, The Pins. The band's drummer, Michael Sahakian (taking a break from a gig with Mexican Head Cheese), introduced Buck to Perry Botkin, Jr. who introduced Buck to "Joy," a song recently written by Harry Nilsson.
Buck Earl recorded "Joy" using a hand-held cassette recorder and mailed his only copy of the cassette to his mother back in Madrid, New Mexico.
Buck's mother was so impressed by the recording that she mailed it to her brother, Jacko, a Chrysler salesman in Pasadena, California.
Jacko accidentally left the recording inside the tape deck of a used 1968 Corvette convertible which was later sold to Si Litvinoff, the Vice-President of National Promotion at RCA records.
Litvinoff, taking his new car for a drive along the 401, was captivated by the angelic voice and accomplished cymbal he heard as the tape played.
Litvinoff took the tape to his bosses at RCA and was ordered to find the man behind the voice. Fortunately, Buck had written his return address on the tape's label.
So a few days later, Buck found himself in RCA's Studio A - where Elvis and Sonny and Cher had recorded their greatest hits.
Buck Earl performed "Joy" with the backing of the studio's best session musicians including Buckminster Fuller and Willem Nijholt playing guitar. A single was released on the company's green Country label. The single made a brief appearance at #91 on Billboard's chart.
Flush with success, Buck returned to his job as the flute player for the Lebrea Inn's house band only to discover that the hotel had been demolished to make room for a super-sized Costco store.
Buck withdrew from the music biz, deciding to devote his time to political causes. He became the spokesperson for the Unwed Sisters United to Win Friends and travelled the world giving interviews in support of the organization.
Buck Earl died in 1994 leaving a legacy of music appreciated by only a few of his closest friends, family, and devoted fans. Although success evaded him during his life, Buck's reputation has grown with the passing of time. Director and screenwriter, Bruce Hurwit, based his 1997 hit film, "La Mortadella," on the life of Buck Earl. The film earned 13 Oscar nominations and an honorary Horace Award from the Greek Film Producers Association.