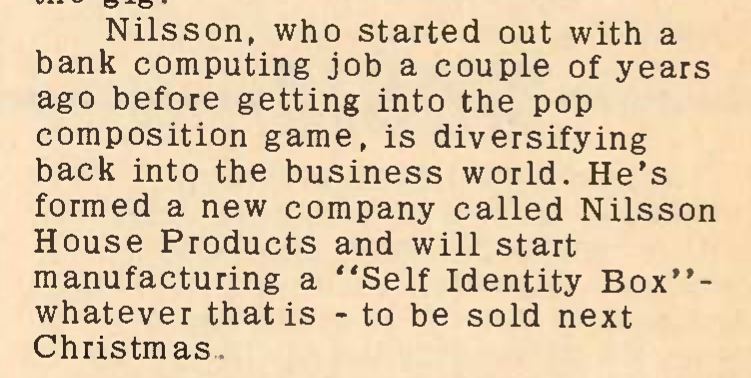 In a "Pop Scene Service" article distributed to newspapers by the Bell Syndicate in late 1968 or early 1969, Nilsson is said to have developed a "self-identity box":
It also explains why he is in a totally unrelated venture, manufacturing a self-identity box which says *'hello . . . I'm . . . (person's name), a gimmick item with special appeal for conventions[1]
Richard Robinson's "Pop Wire" column in the January 27, 1969, issue of RPM Weekly reported:
Nilsson, who started out with a bank computing job a couple of years ago before getting into the pop composition game, is diversifying back into the business world. He's formed a new company called Nilsson House Products and will start manufacturing a "Self Identity Box" - whatever that is - to be sold next Christmas.
---
[1]

.The Herald (Jasper, Indiana), D. Emanuel Lewis (1969-01-04) "Pop Star Nilsson Gets Into It All"