From February 15 to April 1, 1998, the Muziektheater in Amsterdam, Holland, presented "Nilsson!" a play based on the life and music of Harry Nilsson.
"Nilsson!" is based on a concept by Bill van Dijk. Developed under the working title of "Late Last Night," the play takes place over the last two seconds of Harry's life as he reflects on his life and music with characters such as John Lennon appearing as hallucinations experienced by Harry and seen by the audience.
I was enthralled by Harry's voice, lyrics, humor and irony when I first heard him sing in the late sixties. The fact that he never performed live, that he had said that he'd make 21 albums and stopped at number 20, his biggest hits were not his own, his non-relationship with a live audience, and the fact that the Beatles dubbed him best singer and band intrigued me. Instead of making a tribute album I thought that his material had such theatrical substance that I decided to make a musical play about him. My intentions are to reveal his genius to a new, young audience.
With the help of Jeroen van den Berg, Brigit Odett, Endemol Entertainment Inc., and a brilliant cast, a long lived dream of mine has come true.
-- Bill van Dijk
As the one and a half hour musical play opens, it is 1994 and Harry wonders if his reluctance to performing has made him less well-known especially among the your generation. John Lennon appears and tells Harry that a "new work" performed live is the way of the future. John takes Harry back to 1974 (the Lost Weekend / Pussycats era). There, Harry tries to change his fate, but fate is inevitable. The Lost Weekend becomes a nightmare for Harry, a sinking ship. John pushes Harry into a live performance (synonymous for death), but Harry can't take it anymore and calls out for Una, who is always there for him. Harry dies, at peace with his fate, in her arms.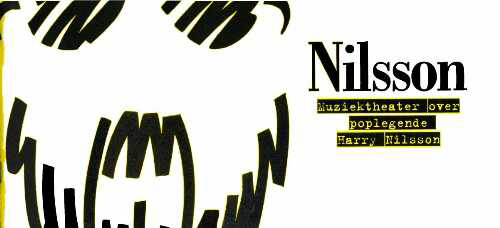 Bill van Dijk ("Harry")
Bill has starred in numerous musicals around the world from "Hair" to "Les Miserables." He created the role of "Cyrano" at the Neil Simon Theater on Broadway in 1993-94, performed in four feature films, and represented the Netherlands at the Eurovision Song Contest. As a songwriter singer he's written a number of hits for others and recently made a solo album of his own songs (Songlines) with Jan Akkerman (guitarist of the legendary band Focus).
Marjolein Keuning ("Una")
Marjolein played in the musicals "Cats," "Les Miserables," and "Closer than Ever." She played a leading role in the television series, "Women's Wing" ("Vrouwenvleugel") which is situated in a women's ward in prison. Currently, she hosted the Netherlands number one TV show "That Lovin' Feeling" ("Het Gevoel Van") which broke all Dutch viewing records.
Jim de Groot ("Lennon")
Jim played in the feature film, Vincent and Theo. "Nilsson!" is Jim's theatre debut. Jim, (who looks exactly like John Lennon) is the son of legendary Dutch popstar Boudewijn de Groot. He has his own band, Babyface Armstrong.
Lottie Hellingman ("Diane"/"Joy")
Lottie won the Danny Kaye children's award. At the age of 19 she received rave reviews for her first leading role in the musical play, "Far Out" ("Eindeloos"), and played the part of "Ellen" in "Miss Saigon." She has been touted as the Netherlands' brightest young talent of the future.
Jeroen van den berg (Writer)
Jeroen has written and directed numerous plays for different repertory companies. He has his own theatre company, "Oranjehotel".
Brigit Odett (Director)
Brigit started as assistant director on "Les Miserables" and now directs numerous plays and musical plays such as "Sweeny Todd," "Ghost Train," and "Jane Eyre." She also teaches at the Theatreschool in Brussels.

A synopsis of the play:
Salmon Falls (Harry)

Prologue
Remember (Diane)
Diane warns Harry that he has to play live. Harry says he never performs live.
Mr. Richland's Favorite Song (Band)
Intro to Harry's live performance.
Jump Into The Fire (Harry)
Harry performs live and has a heart attack.
Remember (reprise) (John)
Harry hears strange voices.
Harry enters Bar where he used to hang out in the seventies - where Joy works.
One (Una)
Una sits at home watching television.
Lifeline (Harry)
Harry sees John Lennon appear who tells him that they should create new work instead of "the best of".
Will She Miss Me (Harry/Una)

Harry and John travel back to the seventies. Una thinks of Harry.
What's Your Sign? (Harry/John)
Harry and John go out on the town.
Early in the Morning/Jealous Guy (John)

John tries to call Yoko, but gets no reply.
You're Breaking My Heart (Diane)
Diane leaves Harry.
One/Without You/Lifeline (Harry/Diane)
Harry wants to change history but realizes that fate has taken hold of him.
What's Your Sign (reprise) (Harry/John)
Harry and John go from bar to bar.
Lean On Me (Una)
Una, as a young woman, meets Harry - Harry doesn't want to know.
Together (Harry/John)
Both men are lost and need each other's help.
Many Rivers to Cross (Harry/John)
Harry and John decide to make an album.
Jump Into the Fire (John)

John convinces Harry that they should perform live.
Down (Harry)
Coughs up blood in his attempt to perform live.
I'll Never Leave You (Harry/Una)
Harry can't take it any more and calls out for Una.
Turn On Your Radio (Harry)

Harry dies In Una's arms.
Perfect Day (Una/Diane/John/Band)
Epilogue. John has organized a surprise party in heaven. They've bought Harry a coffin.
Nilsson! was staged at:
Werktheater
Oostenburgergracht 75
Amsterdam
Netherlands
Werktheater is a small (300 seat) theater where new plays and musical plays preview and try out to see whether these productions have the possibility to play in bigger theaters and longer runs.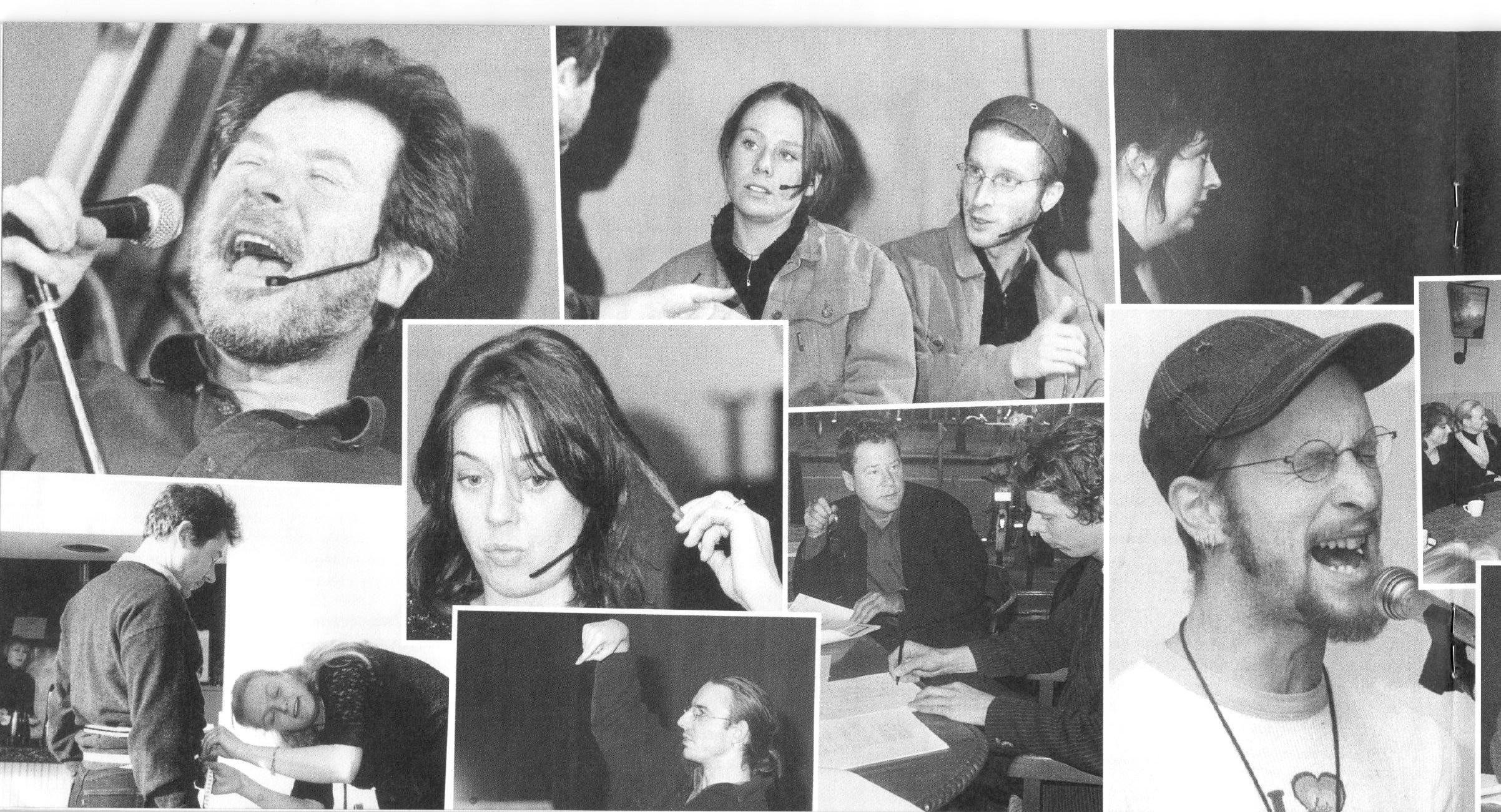 The songs, performed in English, are beautiful and sensitive. [...] Lottie Hellingman's performance gives you the goosebumps.
Hervorm Nederland
Maartje Luif
Lennon [is] convincingly brought to life by Jim de Groot. [...] Once the last note has resounded, one wants to do what Nilsson asks, "Turn on your radio and listen to my song."
Parool
Dirk-Jan Arensman
Beautiful, clean setting, atmospheric slides. [...] Not a bad word about this small tasteful production. [...] The excellent script, by Jeroen van den Berg, has it all: humor, tragedy, suspense.
Telegraaf
Marcel Peereboom Voller
Bill van Dijk is the perfect Harry Nilsson.
Trouw
Frank Verhalen
Slick four-piece band which plays at pop concert loudness. [...] Van Dijk and de Groot are worthy followers of Nilsson and Lennon - two giant talents whom we painfully see fall into decay. [...] Bill van Dijk's farewell song, 'Turn on Your Radio,' is a gem.
NRC
Henk van gelder
Fabulous compositions. [...] Surprisingly well acted by pop musician Jim de Groot.
Algemeen Daghiad
Nico Heemelaar
Lennon-Nilsson dialogues are so sharply written and are played with such zeal that these excerpts are enough to tell a rounded story. [...] Singing. movement. acting. Lottie Hellingman has it all. [...] Bill van Dijk is clearly in his element. [...] This production makes you want to find the unreleased tapes of Harry Nilsson.
VoIkskrant
Patrick van den Hanenberg