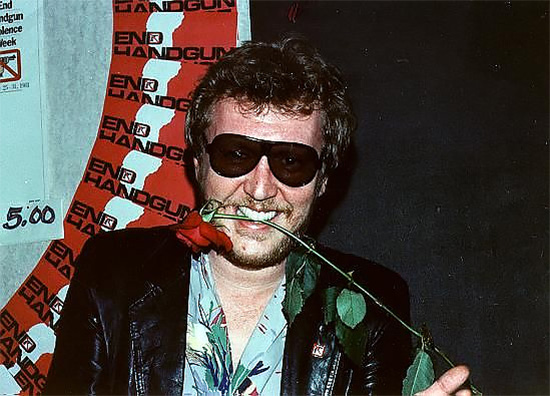 The following article originally appeared as a message in the Usenet rec.music.beatles newsgroup. In the article, Colette Moran talks about her experiences seeing Harry Nilsson at several Beatlefest fan conventions. The message is reprinted with her kind permission.
As a staffer at all three Beatlefests each year, I got to meet Harry on a few occasions. I actually was his "personal assistant" one weekend, getting him downtown for a radio interview, helping him during autograph sessions, etc. (during autographing sessions he would sit for hours, which came to be difficult for him, signing for anyone who would make a donation, however small, to the Coalition to Stop Gun Violence -- he would collect hundreds of dollars per sitting for this near-and-dear charity).
After seeing him such a mess the first time I met him, before he was sober, it was bittersweet to watch him with two of his kids the last time. He had the best relationship with them, and seeing the effects the years of partying had taken on him, and knowing he wouldn't be with them much longer was heartbreaking. (He also was broke, thanks to yet another hand-in-the-tiller who robbed him blind!)
At the fests, Harry would join Liverpool onstage for a few numbers. The first time I saw him sing was before he was sober, and his performance made us all wince. He garbled hoarsely through some old rockers -- no "Without You." We figured he knew it would be pointless to attempt the tough vocals.
More than a decade later, at the 1991(?) Los Angeles Beatlefest. I met him for the second time and he was sober, but in bad shape. He had to have a chair on the stage during his performance with Liverpool. As my friend and I sat shaking our heads, suddenly we heard the unmistakable opening notes of "Without You." We looked at each other and simultaneously mouthed "No way!" We couldn't believe it!
We watched in awe as Harry stood up and belted out every last word -- standing ON THE CHAIR for the final chorus. Everyone was on their feet cheering, tears in their eyes, knowing they had witnessed a heartfelt performance that had come from the depths of his soul. It was the most stirring exhibition I had ever seen. (At a Beatlefest concert of all places!)
The next summer was the Chicago fest where I was his personal assistant and it was the last time I saw him. The saddest part of hearing about his death months later was knowing all the projects he was trying to get started -- a Return to the Point among them. Who knows what might have been?