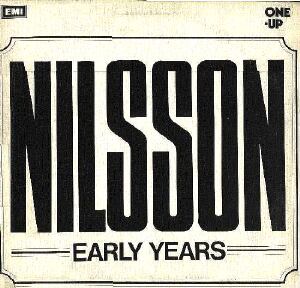 UK reissue of the Spotlight on Nilsson songs. Harry Nilsson sings with the New Salvation Singers on the first two tracks.
Reviews
Nilsson Early Years
This LP was released as a CD titled " Spotlight on Nilsson/Willard" (sharing half the CD with another artist.
I value all these early songs, especially "Growin' Up" which is one of my favorite Nilsson songs that I had played at my daughter's wedding.
For reference I have the original LP and the CD.
https://www.amazon.com/Spotlight-Nilsson-Early-Tower-Masters/dp/B003IMEREM/
Track list
Title, Length, Composer, Artist, Track, Album
The Path That Leads to Trouble,2:08,Johnny Cole,Harry Nilsson/The New Salvation Singers,1,Spotlight on Nilsson/Willard
Good Times,1:50,Harry Nilsson,Harry Nilsson/The New Salvation Singers,2,Spotlight on Nilsson/Willard
So You Think You've Got Troubles,2:22,Marvin Rainwater,Harry Nilsson,3,Spotlight on Nilsson/Willard
I'm Gonna Lose My Mind,2:06,Johnny Cole,Harry Nilsson,4,Spotlight on Nilsson/Willard
She's Yours,2:02,Harry Nilsson,Harry Nilsson,5,Spotlight on Nilsson/Willard
Sixteen Tons,2:32,Merle Travis,Harry Nilsson,6,Spotlight on Nilsson/Willard
Born in Grenada,2:16,Harry Nilsson/John Marascalco,Harry Nilsson,7,Spotlight on Nilsson/Willard
You Can't Take Your Love (Away from Me),2:03,Harry Nilsson,Harry Nilsson,8,Spotlight on Nilsson/Willard
Growin' Up,2:50,Harry Nilsson,Harry Nilsson,9,Spotlight on Nilsson/Willard
Do You Believe,2:19,Harry Nilsson,Harry Nilsson,10,Spotlight on Nilsson/Willard
Connection Chains
Connections
---