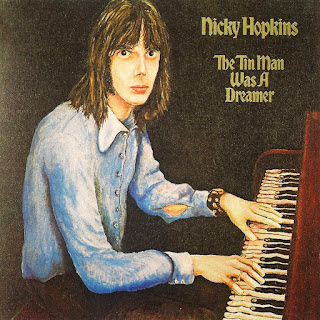 Nicky Hopkins' released his second solo album, The Tin Man Was A Dreamer, in 1973. All of the songs are credited to Nicky Hopkins by himself and with Jerry Lynn Williams. But, according to Nicky Hopkins, his wife Linda Hopkins wrote most of the lyrics on the album with help from Harry Nilsson.[1]
Nicky: She helps me out so much man, but she doesn't want credit because she doesn't want it to be like Paul and Linda McCartney or any of the others. I wanted to give her credit for writing the words, but she wouldn't have it. Wouldja?
Linda: Nooo. As long as you give me credit personally, that's all I'm interested in.
-- Nicky and Linda Hopkins (1973)[2]
---