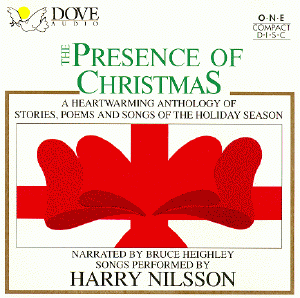 "A heartwarming anthology of stories, poems, and songs of the holiday season" narrated by Bruce Heighley. The songs are performed by Harry Nilsson. This collection was produced by Harry's cousin, Doug Hoefer, for Harry's Hawkeye Entertainment.
The Presence of Christmas without Harry's vocals was originally direct marketed by Mutual Media in November 1986. A sixty-second TV commercial was aired in about 20 cities. Only about 100 copies of the album where sold.
The CD was released by Dove Audio, Michael Viner and his wife, Deborah Raffin Viner, created Dove Audio which publishes audio books.