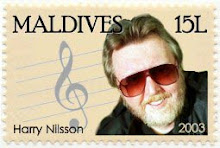 This bit of news was originally posted as an April Fools joke on April 1, 2003.
The Philatelic Bureau of Maldives announced today that the small island country will issue a postage stamp honoring the late American singer and songwriter, Harry Nilsson. The postage stamp, to be issued in May of 2003, features an image of Nilsson in front of a musical symbol.
Harry Nilsson produced a world-wide hit in 1972 with his recording of the song "Without You." He died of a heart attack in 1994.
Maldives is a group of islands off the tip of India. Originally a British protectorate and dependency of Ceylon, it regained its independence in 1965 and again became a republic in 1968.