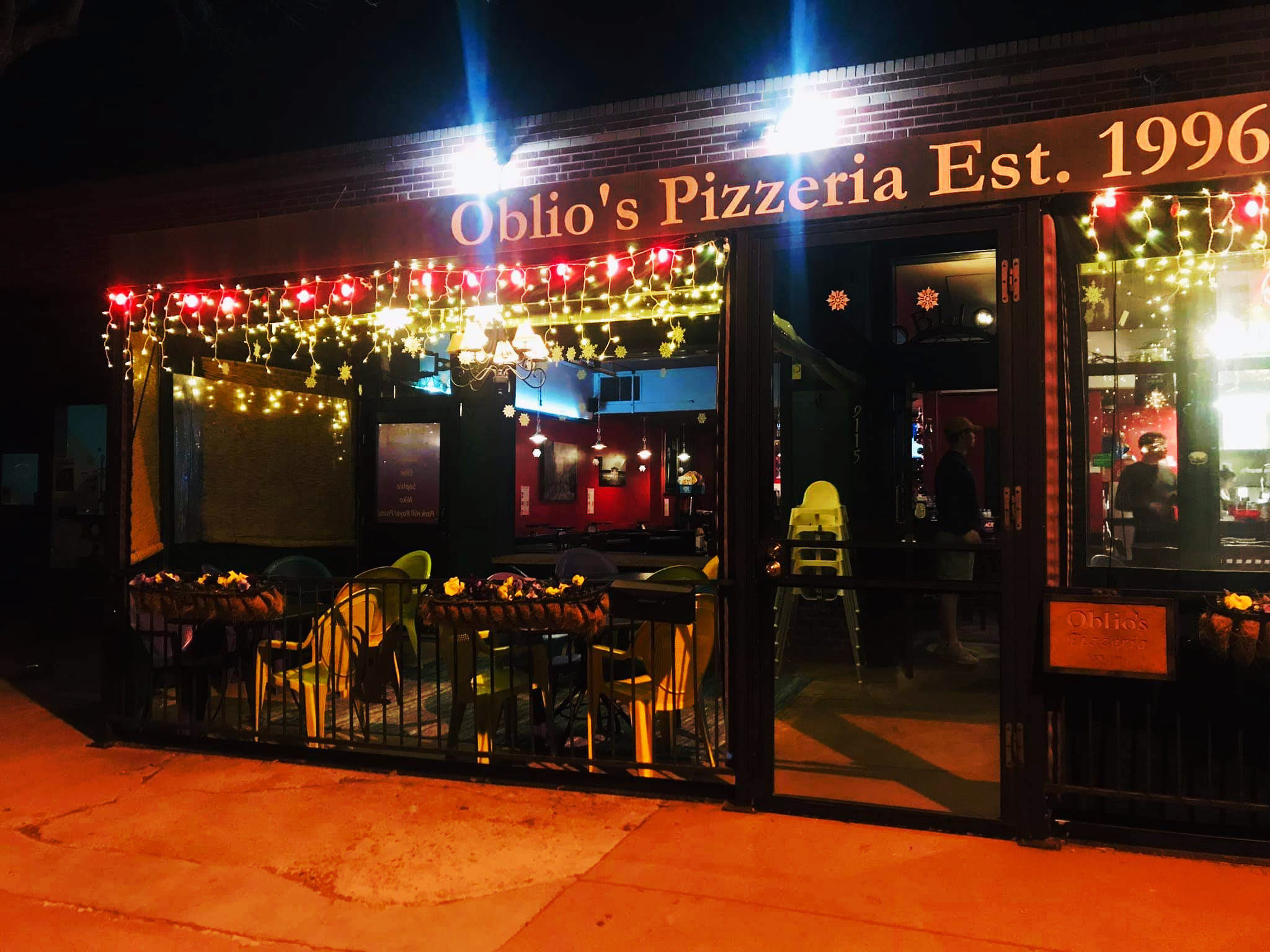 Denver Post Food Editor
Oct. 20, 2000 - Danny McKay's pizza has a point, in a manner of speaking.
McKay's Park Hill pizza parlor, Oblio's, gets its name from the 1970 Harry Nilsson hit "Me and My Arrow" (after Oblio, a pointless little boy who found himself and his dog, Arrow, in the Land of Point).
Oblio's has a lot going for it. Its décor - dark green, polished wood and enormous, colorful wall murals - is as cute as a button. The joint is seven-day-a-week busy (Mondays are take-out and delivery only). Service is friendly, quick and solicitous and as old-fashioned as Nilsson's song. And McKay's pizzas have a point: they're delicious.
McKay rolls thin crust pies to order, but not before he's sent out a small plate of butter-and-cheese drenched "bread sticks" (more like tied-up ribbons of leftover dough) that are hot, beautifully browned and crisped. A few too many of these and there goes the appetite.
You can get all the usual pizzas here - even a very 1990s goat cheese pie - but McKay also assembles his house favorites.
Taos by Night ($13 to $15), for example, is topped with bunches of roasted garlic chicken, fresh button mushroom slices, jalapeño peppers and chopped red onion. So much chicken makes for an especially hearty meal, but unless you're into them, ask McKay to cool it with the raw onions here and elsewhere. Standard Oblio's toppings include light-textured meatballs, green olive (the whole sort, small and pitted) and dried basil for the Margherita. It'd be nice to have fresh basil, too, particularly for all the pretty color it brings.
The pies run from $11.25 to $15.25 and come in 12-inch and 16inch sizes. McKay's crust comes out medium-brown and semicrispy, with a ring of nicely tanned crusts (some wee bits of black punctuate speckled brown here and there). If you're into a crisper dough, then let the man know.
Oblio's also sends out newly made green salads and dressings that taste fresh and homemade. And the menu also sports a few non-pizza, but amply red-sauced, dishes.
One such is the "Italian calzone" ($8.25), an enormous pocket of dough filled with (a bit too much) Canadian bacon, pepperoni, green bell peppers, mushrooms, ricotta and provolone cheeses and onions.
It's almost too much cold stuff to cook through properly and the result is a little more like a sub sandwich than a hot meal. But the bucket of terrific, chunky, mildly seasoned and not overcooked red sauce that McKay slathers it with is worth the chill.
After all, most everything here has a point. Especially this: In a 180-degree switch from every other restaurant known to man, Oblio's gives 15 percent off to groups of eight or more.
Oblio's Pizzeria is located at 6115 E. 22nd Ave. in Denver, Colorado.
Copyright © 2000 by The Denver Post. All Rights Reserved. Reprinted by permission of Bill St. John and The Denver Post.
---
---
External Links