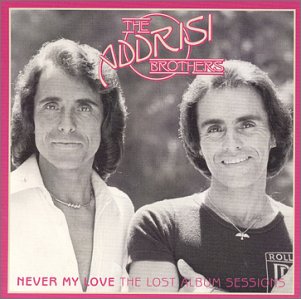 This previously unreleased album by the Addrisi Brothers features backing vocals by Harry Nilsson and Van Dyke Parks.
In a 2002 interview, Richard Addrisi was asked how the "lost tapes" had been found.
I kept on looking at this box with tape I had. I kept looking at the song titles - a lot of them were done on our Columbia album. This "Lost Album" was a chance to rehearse all the songs that ended up on the Columbia album. I had forgotten we'd even done it. It ended up in dad's garage. I had a big bucket and was throwing all this stuff away. I was going to throw it away and for some reason I kept it. Three years later I had it put on a CD. I listened to it and went, "Wow!" Listen to all those vocal parts. It has the best background parts. Harry Nilsson, God bless his soul, did the high parts. We were working at Hollywood Sound Recorders and there was a famous restaurant nearby, Martoni's, and that's where everybody hung out, George Harrison, Johnny Mathis, Nilsson. Harry would come over with his fifth of Jack Daniels. He drank himself into oblivion, but boy, did he have talent.
-- Richard Addrisi[1]
---