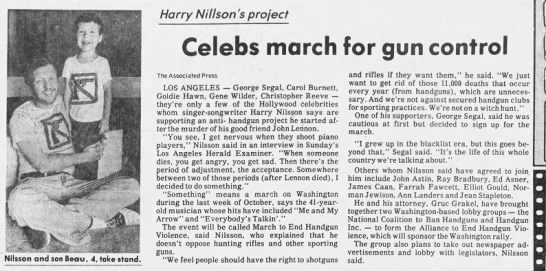 On August 17, 1984, the AP released a news story saying that Harry Nilsson was organizing a "March to End Handgun Violence" to take place at the end of October in Washington DC.
Nilsson listed George Segal, Carol Burnett, Goldie Hawn, Gene Wilder, John Astin, Ray Bradbury, Ed Asner, James Caan, Farrah Fawcett, Elliot Gould, Norman Jewison, Ann Landers, Jean Stapleton, and Christopher Reeve as celebrities that were expected to take part in the demonstration.
After the shooting of his friend, John Lennon, Nilsson mostly retired from making music to campaign for more sensible gun laws.
You see I get nervous when they shoot piano players. When someone dies you get angry, you get sad. Then there's the period of adjustment, the acceptance. Somewhere between two of those periods I decided to do something.[1]
Nilsson explained that he doesn't oppose hunting rifles and other sporting guns.
We feel people should have the right to shotguns and rifles if they want them. We just want to get rid of those 11000 deaths that occur every year [from handguns] which are unnecessary. And we're not against secured handgun clubs for sporting practices. We're not on a witch hunt.
According to the article, Nilsson and his attorney Bruce Grakel brought together the National Coalition to Ban Handguns and Handgun Inc. to form the Alliance to End Handgun Violence which would be the sponsor of the Washington rally.
---