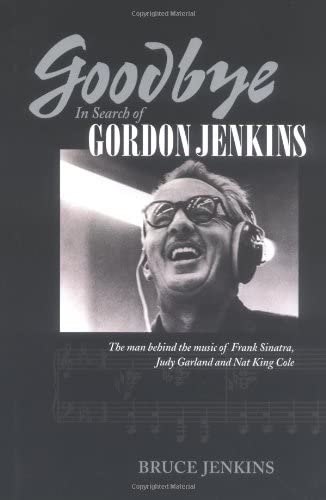 Bruce Jenkins' biography of his father, Gordon Jenkins, includes information about the recording of Harry Nilsson's A Little Touch of Schmilsson in the Night album. Jenkins arranged and conducted the music for Nilsson's album of pop standards. The younger Jenkins attended the London sessions.
Goodbye is not one of those biographies that everyone will enjoy reading. But, since you're reading this, I can assume you're especially interested in Gordon Jenkins or Harry Nilsson, so the book should be of interest to you and I can highly recommend it.
Much of Goodbye is written in first-person as Bruce Jenkins learns about his father's life, but Bruce is a successful sports writer with a family of his own so there's no "the author discovers himself along the way" subplot as in many biographies written in this style.
The book is well-written and well-organized. The narrative basically flows in chronological order, but branches off at appropriate times to discuss specific topics (such as "Songwriting" and "Frank Sinatra") in more detail. The book is entertaining and moving, but not overly sentimental.
Some of the anecdotes ("Mr. Mensroom") are laugh-out-loud funny. Many of the musicians are artists Gordon worked with were interviewed for the book including Frank Sinatra, Harry Nilsson, and Derek Taylor. Bruce also quotes from his father's letters and interviews.
Nilsson fans may notice some similarities in Harry and Gordon's lives. Like Harry, Gordon left school just months before getting a high school diploma. Harry left to join his family in California (and to follow the Dodgers, I suspect). Gordon left to pursue his interest in music. Neither man received any formal music training.
Bruce describes how his father overcame his extreme distaste of rock music to work with Nilsson and how committed Harry was to the project. "Technically, he didn't have much of a voice," Gordon is quoted as saying, "but he had good pitch and feeling, and he was willing to work. This is a guy who was terrified of performing live and never did it once. Never stood in front of a conductor either. But he was passionately interested in this thing. He spent many hours rehearsing with my piano player, Charlie LaVere, just to get the intervals and phrasing down."
Nilsson fans will want to read Goodbye if only for the chapter about the recording of A Little Touch of Schmilsson in the Night.
-- Roger Smith (June 2006)